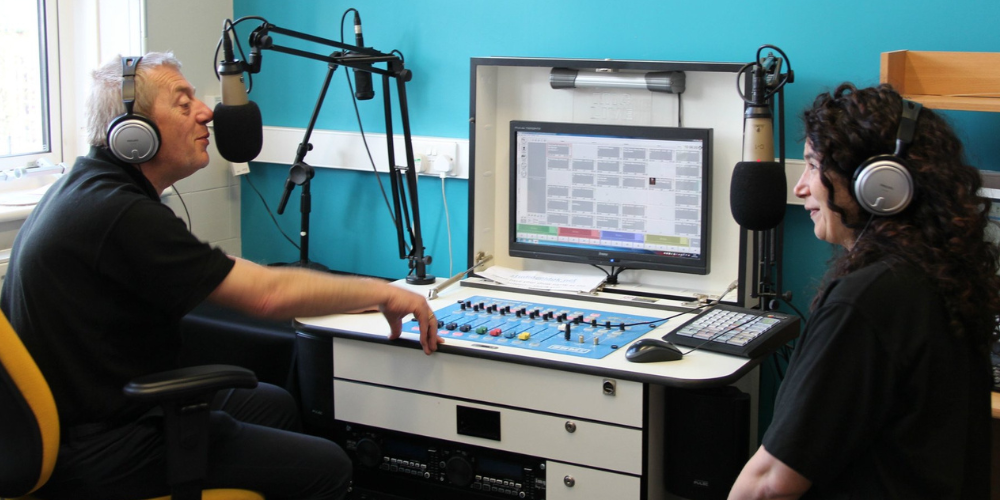 Forever Manchester recently made a bold return to the airwaves across Greater Manchester with the launch of a monthly audio show featured on a number of local community radio stations.
Forming part of its community relationships strategy, The Forever Manchester Audio Show aims to share the inspirational stories of featured studio guests whose vision, commitment and dedication in making a difference to the lives of others, is often fascinating and inspiring.

Launched in February, nine community radio stations are involved in broadcasting the community focused programme which, alongside inspirational guests, also shares details of available funds and funding opportunities to support the work of grass roots groups and community organisations supported by Forever Manchester and equally served by the radio stations involved.
The Forever Manchester Audio Show is produced and presented by Forever Manchester's Community Relationships Manager Terry Snowden MBE who says:
"It's all about hearing and sharing the stories of those who care enough to act and who achieve things that make our communities happier and healthier places to be.

Like Forever Manchester, community radio stations are 'place based' and therefore play an important part in engaging and supporting our local communities. So what better way than to tell interesting, inspiring stories of people from round ere' and share their achievements!

Our guests are A-List Community Players, Changemakers, Real Life Community Champions and People who do what they do with great passion, humility and success. That's why their stories are so inspiring and well worth sharing".
In just a few month, the Forever Manchester Audio Show has become the most broadcast community focused radio programme in Greater Manchester.
---
Where to listen?
The Forever Manchester Audio Show can be heard on the following radio stations on various days at different times depending on radio station schedules:
All FM (96.9 fm) – South, East and Central Manchester
North Manchester FM (106.6 fm) – North Manchester
Oldham Community Radio (99.7 fm) – (Borough of Oldham)
Radio Alty (Altrincham & South Manchester)
Radio M29 (Wigan & Leigh)
Roch Valley Radio (Bury & Rochdale)
Manchester Radio Online – (Greater Manchester)
Salford City Radio (94.4 fm) – (City & Borough of Salford)
Wythenshawe FM (97.2 fm) – (Wythenshawe, Stockport & South Manchester)
---
The Forever Manchester Podcast
After airing, the Forever Manchester Audio Show is re-edited into episodes for a new podcast series 'Forever Mancunians', with the aim of building a library of fascinating people telling their inspirational stories in their own words, and capturing the development of some brilliant local groups.
'Forever Mancunians', along with 'Forever Manchester Meets' and 'This Is The Place', are all individual series of the Forever Manchester podcast.
To find out more about the Forever Manchester Podcast, click here.
---
Date added: 21st June 2023
---