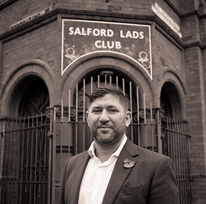 "Real life, real people."
Alan's a pro of business development and sales.
Originally from Salford but now living in the city centre, Alan has worked in the professional community for the last 10 years. He has been nicknamed "Man about Town-ley" because he can be seen attending lot of events across the city.
"I could not think of ever working in or being anywhere else but Manchester because of the friendly aura about the place and the vibe that is made by the nightlife and shops. Manchester … Real life, real people."
Alan's commitment to Forever Manchester
Alan turned his passion for golf into his passion for Manchester by hosting the FM Golf Challenge in May 2013, for a number of teams with all the proceeds going to Forever Manchester. He also took on the 10k with a couple of mates to raise money for round 'ere.