This World Kindness Day our Captain was out and about giving away free bags for life to fight the 5p charge.
Captain Manchester is all about kindness and said: "World Kindness Day is the perfect excuse for people who wouldn't usually do a random act of kindness to do exactly that. I hope the bags I gave out today with Forever Manchester's infinity symbol in cheered people up as that's what random acts of kindness are all about!"
World Kindness Day is an international day held on 13th November every year to encourage people across the world to take part in random acts of kindness, which was the perfect day for our Captain to be out and about,
Captain Manchester gave out bags each with some chocolate, the Captain's card and a Forever Manchester wristband inside.
The Captain even left a few bags for builders working hard in Spinningfields, who were so into it that they even copied his signature pose!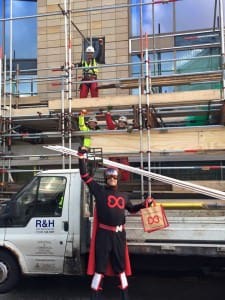 If you got a bag from our Captain today, be sure to Tweet or follow him @Captain_MCR on Twitter or send it to us on Facebook.
More photos from the bag giveaway: