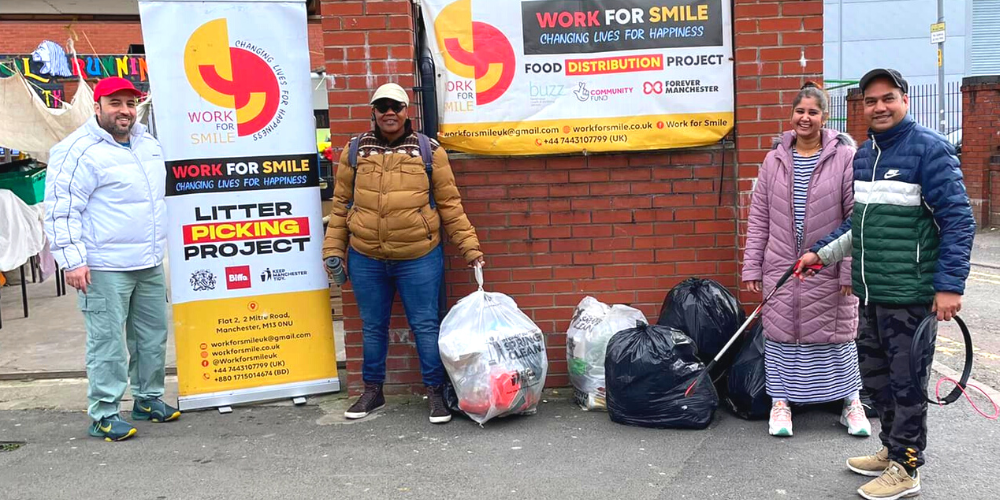 Work for Smile serves the communities of Longsight, Ardwick, Rusholme and Levenshulme, providing much needed support for those being deprived of happy lives due to circumstance and poverty.
They operate a number of initiatives including a food distribution project, refugee donations project, book distribution initiative and litter picking project alongside undertaking other activities that help in supporting local people with the aim of "Changing Lives for Happiness" by striving to make the world a better place.
They help their community to solve problems and share ideas by providing access for people to engage in stimulating creative, social, leisure, educational and health-promoting activities.
Founder, Mohammed Khairuzzaman who relocated from Bangladesh to Manchester in 2016 continues to inspire and improve the lives of those who need assistance, with the aim to help local people struggling from relative poverty, and those who can often be forgotten in society.
Work for Smile has been shortlisted for the For Everyone Award to be presented at Forever Manchester's Birthday Party on Friday 10th February 2023.

The award is given in recognition of a group of people who have supported those who may find themselves excluded from the wider community.

Click here for more details about our Annual Birthday Party.
It is always worth remembering that, if you support Forever Manchester, you support all this.
The ability of local community groups and organisations to best help people in their community remains dependant on maintaining support for them.
To find out more about how you can get support Forever Manchester please email us at marketing@forevermanchester.com or telephone on 0161 214 0940.
---
Date added: 12th December 2022
---