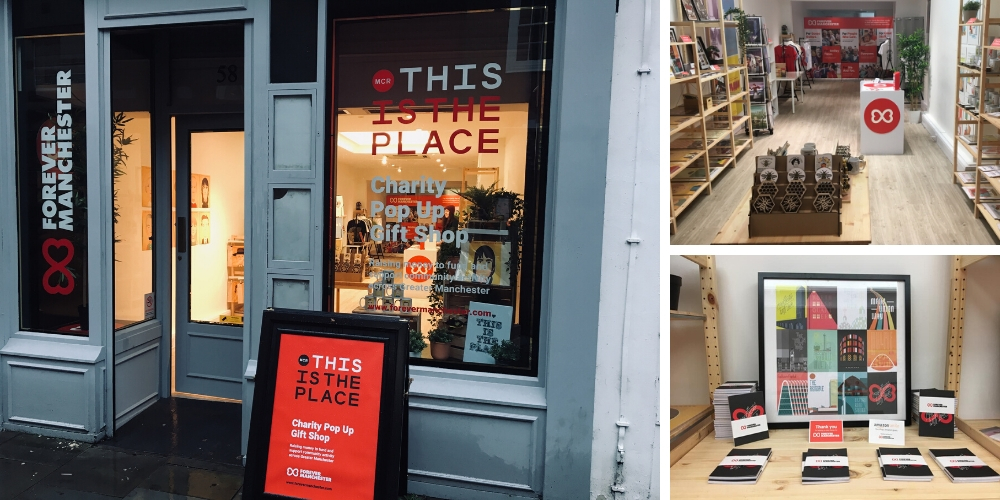 This is the Place pop up shop closes on Saturday 23rd November.
Forever Manchester has opened 'This is the Place', a pop up gift emporium on Manchester's prestigious King Street, selling a bit of Mancunian flair for Christmas with products designed and donated by some of the city's finest creative talent with sales raising money to fund and support community activity across Greater Manchester.
The pop up at 58 King Street, which takes its name from 'This is the Place', the famous poem written especially for Forever Manchester by Tony Walsh, will open every day until close of business on 23rd November right in the heart of the city's retail district.
Opening Times:
Monday to Wednesday 10am – 6pm,
Thursday to Saturday 10am – 8pm
Sunday 11am – 5pm.
Please note 'This is the Place' pop up shop will close on Saturday 23rd November at 4pm.
Some of the unique gifts available include products designed by local artists including Stanley Chow, Factory Records designer Trevor Johnson and Middleton based artist Justin Eagleton alongside a range of This is the Place merchandise containing his world famous words.
This unique shopping experience has been supported by The Manchester Shop on Oldham Street, which has already raised more than £8,000 for Forever Manchester. Manchester Shop retail Manager Miki Christi, who is a Forever Manchester ambassador, has helped develop the range of pop up products that are available to get the shop up and running and products from the Manchester Shop's Manc and Proud range are also available in store.
Forever Manchester's Chief Executive Nick Massey said "We are really excited to bring our products to Manchester's finest shopping street at this amazing time of year. We'd love it if people popped in to the This Is The Place shop as part of their Christmas shopping trips into the city centre, especially knowing that every purchase makes for 'gifts that keep giving' with every penny raised going back into supporting our local communities."
This is the Place will provide a welcome festive extension to Forever Manchester's successful online shop at ForeverManchesterShop.com which has been running successfully for the last 2 years.
This Is The Place
58 King Street
Manchester
M2 4LY