We are delighted to announce the launch of 'This Charming Manc.com' – our brand new shop selling a wealth of Manchester related items to help raise money to support community activity across Greater Manchester.
So let's start with the name – 'This Charming Manc' is a play on words from The Smiths 1983 release This Charming Man. As for the look and feel, well it's quite obviously a nod to the famous Manchester Nightclub, The Hacienda, which opened in 1982. The Hacienda was one of the first British clubs to play house music in the mid-eighties, which brings us nicely on to the smiley face.
You'll notice the 'C' in the word Manc is drawn as a smiley face, synonymous with the Madchester Acid House era of the late 80s and early nineties. The term Madchester was first coined by Factory Records in 1989, the same year that the Forever Manchester charity was established, known then as the Community Trust for Greater Manchester, responsible for delivering grants to community groups across the region.

In 2000 we became the Community Foundation for Greater Manchester and held a massive Hacienda related auction which raised £17,000 for the charity.
In 2011 we changed our name to Forever Manchester and began to focus more on our fundraising efforts to raise even more money to support our fantastic communities. One of the first big fundraisers we held was an Art Exhibition in partnership with the very talented illustrator and designer Si Scott, who produced a series of large Manchester band related pieces of art. The Stone Roses, Ian Brown, Buzzcocks and Elbow prints sold out quickly, but we still have some of the series available to buy at reduced prices from the ThisCharmingManc.com website.
Peter Hook, bass guitarist for Joy Division and New Order, and supporter of Forever Manchester, kindly signed some of the prints. At the time of writing we only have two copies of the signed Joy Division prints and seven copies of the signed New Order prints left, so don't delay if you want to snap one of these prints up.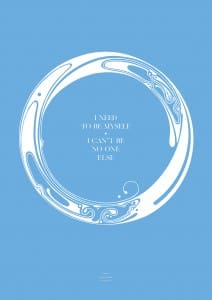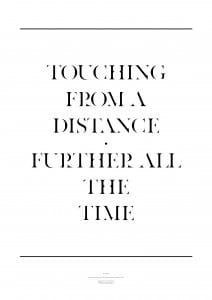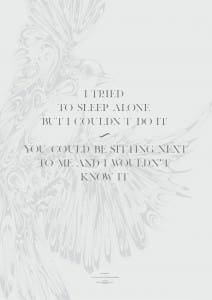 Last year we teamed up with renowned artists and illustrators Stan Chow and Dave Sedgwick of Studio DBD, who produced limited edition prints of iconic Manchester spaces and buildings, naming this range Manchester with Love. Unsurprisingly the Hacienda, Beetham Tower and Town Hall prints were the first to sell out, but we still have stock of the remaining eight designs and a postcard set featuring all the designs from the range available to buy.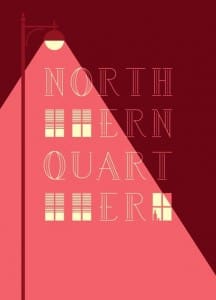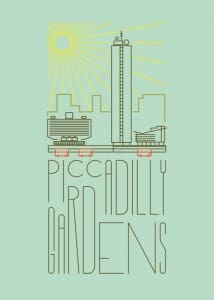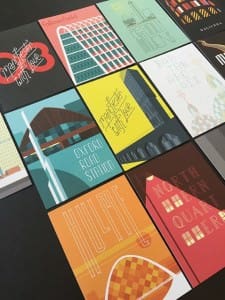 View the Manchester With Love range
Keeping on the subject of art, this month, artist James Chapman supported by Duane Cormell, Director of Realm Recruit and Ambassador for Forever Manchester, have kindly produced 10 designs (plus a postcard set) featuring iconic Manchester people in iconic Manchester places, naming the range 'Forever from Manchester'.
The postcard sets of both the 'Manchester with Love' and 'Forever from Manchester' range, both priced at just £10 each, make an ideal gift for anyone that loves Manchester.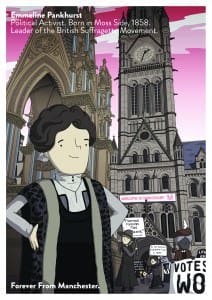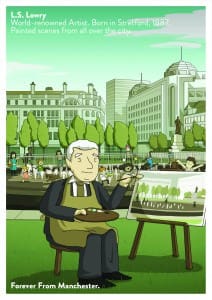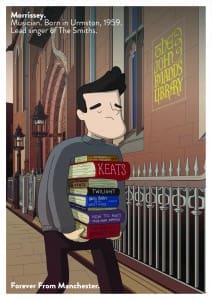 View the Forever from Manchester range
We are also delighted to partner with prolific designer Ray Lancaster to not only produce a range of poster artwork but also a range of T-Shirts too. It was in fact Ray who conjured up the name This Charming Manc and the associated branding. We will be limiting the number of T-shirts sold to just 25 of each design across a range of different sizes.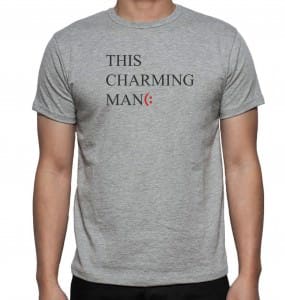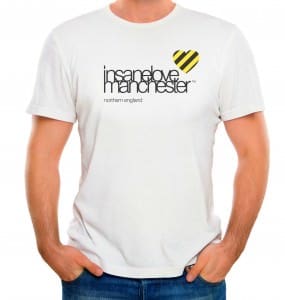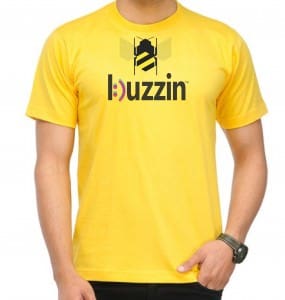 As Christmas is fast approaching, we've included a couple of Christmas T-shirts priced at just £5 each. So if you're looking for some Christmas attire for your office party or struggling for ideas of what to buy someone as part of your Secret Santa gifts, get ordering today as we've only a few left.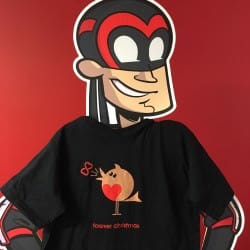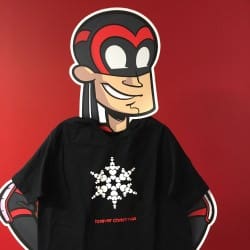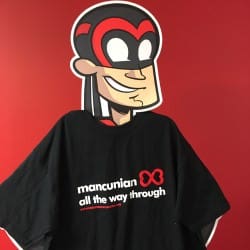 View Forever Manchester Goodies
We'd like to say a huge thank you to all the designers who have given up their time for free to produce some brilliant designs. And a final reminder that all the profits from the sale of all the items in the shop come to Forever Manchester to help fund and support community activity right across Greater Manchester.
To help promote these items we have set up a twitter account at @CharmingMancMcr so get following.
We'll be constantly adding to the shop, so if you'd like to be kept informed via email, you can sign up to our email list.