Salvi's has launched its very first dedicated kids' pizza at their new Corn Exchange restaurant, alongside special kids' pizza making experiences to ensure their little diners feel like VIPs when they visit the restaurant.
Salvi's is Manchester's authentic, Italian food business. Their new Corn Exchange restaurant and deli is a haven for lovers of fresh, simple and exquisite Italian food, with their deli and Mozzarella Bar upstairs and intimate restaurant downstairs.
The restaurant might be best known for its high quality ingredients, food and wine, but as a family run business, children are just as important at Salvi's, hence their new kids pizza, designed by a group of little ones!
Children from a community group in Oldham, which Forever Manchester has supported were invited to Salvi's to help design the pizza, and now owners Claire and Maurizio have proudly unveiled the results.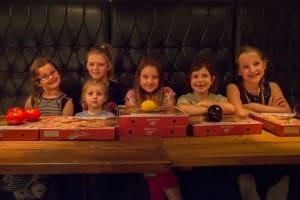 After an intense making and tasting session, the "Pepper Pig" pizza was born – a tasty treat of peppers, Italian sausage, tomato sauce and mozzarella cheese. The Pepper Pig pizza hopes to tickle the tastebuds of kids everywhere!
The "Pepper Pig" pizza will cost £5.95, which includes a drink. Salvi's is kindly donating 50p to Forever Manchester from every pizza made.
Such was the success of the kid's kitchen takeover, Salvi's has now introduced a 'make your own' experience for children dining in the restaurant. Kids ordering any pizza from the menu will get the chance to help create it themselves. Perfect for keeping little ones occupied while the grown ups catch up!
Claire Wheeler, owner of Salvi's said: "This is our first dedicated pizza for children because in Italy kids eat smaller versions of what the grown ups eat, but now we have something extra special just for them. We were keen to support Forever Manchester as their work in the community is fantastic. This pizza is a tribute to the kids of Greater Manchester and we hope that by selling it we'll help to fund more family friendly activity in the local communities too!"
If you want to head down to the popular Italian restaurant, which we can highly recommend from personal experience, head to their Corn Exchange restaurant, which has an entrance from the Exchange Square side of the Corn Exchange:
Salvi's Mozzarella Bar
The Corn Exchange
Manchester
M4 3TR
If you head down there be sure to tweet us photos of your little ones tucking into the "Pepper Pig" pizza @4EVERManchester.