Here's a lovely Friday morning story…
Local Trafford resident, Sammi Stephenson has begun to get so sick of the bad news, that she's asking Trafford residents to create good news and positive vibes themselves.
Sammi has set up a Facebook group encouraging people in Trafford to "pay it forward" a phrase inspired by the 2000 film, with the same name starring Haley Joel Osment, Kevin Spacey and Jon Bon Jovi. See the trailer for the film below:
Sammi says:
"I set up a 'Pay It Forward' page for people to share their stories and acts of kindness, as I was sick of all the doom and gloom on television and in newspapers. Over the time the group has been started there has been some lovely heart warming things people have done.
"When I started the page I never expected or thought that the biggest act of kindness so far would be shown to me personally. Recently I had a rather large sum of money stolen from one of my sessions [Sammi runs boot camp sessions in her local community] in which a lot of people paid up front for 6 week classes, this totally devastated me that someone could do this to me as I do a lot for my community and feel I have a good relationship with everyone there.
"One morning after things had been posted on my personal Facebook about the theft, people in the community opened a crowd funding page on my behalf and everyone in the community started giving donations, in less than 9 hours everyone had donated more than I had had stolen, I cried all day because of the kindness and comments people were writing about me, it was so overwhelming to know that so many think so much of me and wanted to help me out.
"There is an amazing community vibe where I live and I love living here. The pay it forward page I created has shown everyone on it that there are still good kind people in this world trying their best to make people smile.
"I will be continuing to do many more acts of kindness on a regular basis and a massive thank you to everyone that has got involved on the group page and everyone that helped me out."
Sammi has built up a great network of kind people living in the Trafford area who are now coming together to create a happier Christmas for homeless people this December. People from Trafford have begun collecting things like deodorant, face cleansers, toothpaste, hair products, feminine hygeine products, toothbrushes, toothpaste and more.
The boxes will be handed out by Sammi and her volunteers on 23rd December and we're sure they will be a welcome gift for people who are homeless at such a cold time of year.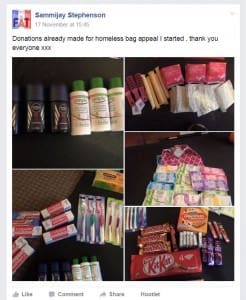 Some businesses have also been using the page to promote offers they are putting on that will benefit their local community. One tattooist, Rebecca is offering half price tattoo vouchers, with all the money going to support local musicians.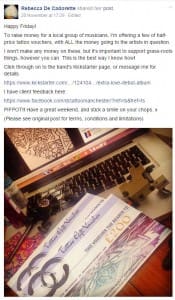 Another user, Emi also shared a lovely heartwarming story of a young girl who seems to have kindness running through her bones and has made a lovely gesture which will hopefully inspire other young children too.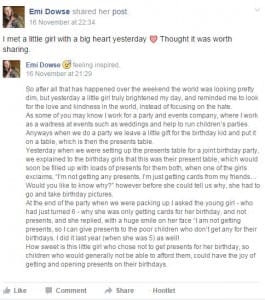 If you'd like to join the Pay It Forward Facebook group, or even contribute, head over to their Facebook page by clicking here.
If you're a Trafford resident living in the Stretford area, why not head down to our FREE workshop at Stretford Public Hall on Wednesday 3rd December? RSVP to the free event by using the form below: