Forever Manchester was delighted to be able to offer local community groups and projects tickets for The X Factor: Live Tour on Saturday 12th March with thanks to Manchester Arena.
Our ongoing relationship with Manchester Arena sees the world renowned live entertainment venue offer multiple tickets for a variety of events and this weekend's invitation didn't disappoint.
Fifty members of the community from across Greater Manchester, who Forever Manchester has met in a variety of ways went to the live event, which saw favourites Reggie 'N' Bollie, Louisa Johnson, Che Chesterman and more put on what the Manchester Evening News rated a 4 out of 5 star performance.
One parent, Clare Dews attended with her daughter Maisie (pictured). Clare said: "Thanks so much to Forever Manchester and Manchester Arena for your hospitality at the X Factor Tour 2016. You made Maisie's year with your generosity. She danced all the way through. Keep up the great work that you do.
"The performers on Saturday kept saying "dreams really do come true" Maisie attends the ABCD dance and drama school and seeing a performance like this can only encourage her and other young people to follow their dreams too."
Another parent, Vanessa took her two children and commented: "The kids absolutely love music, so seeing a live show was a great experience I'm sure they won't forget any time soon."
Finlay and friend Matthew, pictured below attended the concert, which was their first ever and they had an absolute ball, even getting treated to a foam finger, as can be seen below: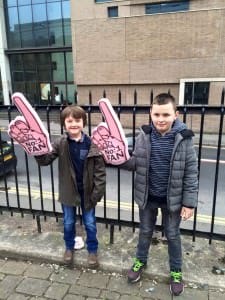 Huge thank you goes to Manchester Arena for donating tickets, which gave residents who are making a real difference in the neighbourhoods across Greater Manchester a well deserved treat this weekend.