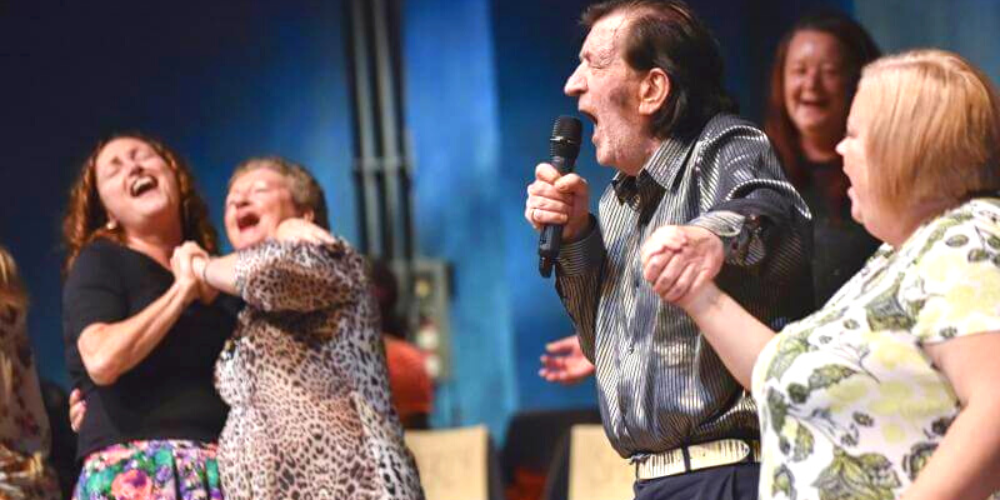 On Top of the World provide activities to reduce loneliness, social isolation and improve the mental health of older residents in Hulme, especially those residing in high rise blocks.
Established in 2015 in partnership with local residents, One Manchester Housing and the Royal Exchange Theatre, their aim was to engage and involve people in cultural experiences previously unavailable to them. Some residents had become completely disconnected from their community, living in isolation with no support networks and struggling with self-confidence.
Residents were invited to take part in a series of fun-filled acting sessions and workshops led by professional coaches. Within a year, the group were putting on theatre productions in front of a live audience.
One resident said "Doing stuff like this brings me back out of myself… it lets me feel like the person I want to be. I like being involved in it; putting on plays, going to the theatre and the art galleries, it's stuff I wasn't doing before and now I'm seeing all these new things."
Roy, who now loves acting, and thinks laughter is one of the best medicines, said the group has helped him feel that he's 'known' and not just a number… or the man that lived at 44 with a walking aid… "Now they know me as 'Roy' " he says.
The building of relationships and breaking down of barriers of engagement has lead to an increase in neighbourliness and community. The residents now feel much more connected and feel part of something. It's given them a fresh sense of purpose.
This couldn't have been demonstrated more, than during pandemic, when many people living in tower blocks would have found themselves extremely isolation. These residents however, due to the friendships built over time, enjoyed taking part in communal singing and playing Balcony Bingo together!
Watch the video below produced by One Manchester in 2018.
It is always worth remembering that, if you support Forever Manchester, you support all this.
The ability of local community groups and organisations to best help people in their community remains dependant on maintaining support for them.
To find out more about how you can get support Forever Manchester please email us at marketing@forevermanchester.com or telephone on 0161 214 0940.
---
Date added: 16th December 2022
---