Forever Manchester has been chosen as the beneficiary charity for an innovative project being delivered by the Ministry of Upholstery.
Based in a railway arch on the Manchester/Salford border, the Ministry of Upholstery provides a range of upholstery courses. They've teamed up with Sofa Workshop who have kindly donated a sofa to be used as a blank canvas for a unique competition to design the ultimate "Manc" sofa.
Manchester has a wealth of heritage, history and creativity – be that music, design, sport, or industry. This competition allows you to be as creative as you like. The Ministry wants to see a massive range of visual ideas. Check out their website here to see the sofa and what you need to do to enter the competition.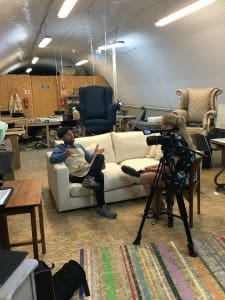 So get designing.
You can do a music themed design: Happy Mondays, Stone Roses, Joy Division – you name it. Or how about recreating the Manchester Bee, featuring great buildings around Manchester, or representing great Mancunians? Or maybe a mish-mash of all of these? Be unique. Be creative. Be different.
This competition is open to absolutely everyone. The deadline for entries is 1st July – so be quick.
All entries will be judged by a panel who will whittle all the applications down to a final five. The Manchester Evening News will then open the judging to the public so you can vote for your favourite design.
The lucky winner will get to work with the Ministry of Upholstery to develop their design and see their fantastic sofa produced.
The sofa will then be available to buy and the proceeds of the sale will be donated to Forever Manchester to support grassroots community activity across Greater Manchester. Best of luck!