Caketober isn't just a chance for our business supporters to have fun and raise money for community groups – it's also something the groups themselves will be celebrating. One such group will be The Miners Community Arts and Music Centre in Moston, on Saturday 8th October between 11am – 2.30pm.
The Miners Community Arts and Music Centre (MCAMC) started life as a miner's workshop before developing into a Working Men's Club which was neglected on an estate in North Manchester. MCAMC was established in 2011 and is ran solely by the community of Moston on a voluntary basis.
The multi-functional building was renovated by the local community. People from Moston shared their skills and together began renovating the space. Residents with skills such as building, decorating, painting, cooking, cleaning and more all came together to create what is now a sought after community hub in the heart of Moston.
Not only that but The Miners Community Arts and Music Centre also won the Forever Manchester Inspirational Community Group award at our Birthday Bash in February 2016.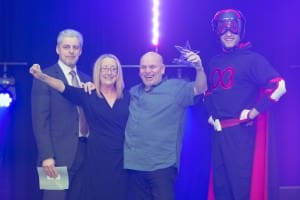 Louis Beckett said: "We thought we were just coming to enjoy the night, have a few drinks and a bit of food. Forever Manchester has been fantastic. They've given us bits of funding for projects and supported our work brilliantly. Starting the project was such a big thing but it was great to have all of the community involved. They own it, it's now theirs. With it being such an old building and with its history it was such a shame to let it go so when we got the keys we didn't hesitate on cracking on. The Centre has brought the community together, they now have somewhere to meet and enjoy and it's great to see people coming together and creating a real buzz in Moston."
Nick Massey Chief Executive of Forever Manchester said: "We are thrilled that The Miners Community Art and Music Centre are getting involved with Caketober. We believe it's the perfect combination of cake and fancy dress that will continue to help this thriving community come together."
So if you want to bake a cake for the bake sale please email graeme@forevermanchester.com, otherwise please come along on the day and enjoy some cakes with us all!
Miners Community Arts & Music Centre
Saturday 8th October
11am – 2.30pm
35 Teddington Rd, Manchester, M40 0DJ
Download The Miners Centre Caketober Flyer and help spread the word!
Has this inspired you to get involved in Caketober? Find out more on the Caketober website.