Tee up and join Junkyard Golf to raise money for Forever Manchester and see if you can win the elusive FM jacket and have some fun too!
Junkyard Golf has been a huge hit in Manchester since it opened in November 2015, which was originally just a three week pop-up project, but its popularity has demanded it stay even longer and now the team is giving back to the people of Manchester by putting on a one-off event to raise money for Forever Manchester, which will support local community groups and projects across Greater Manchester.
The venue will be open exclusively to Forever Manchester supporters on Tuesday 29th March and we'll have access to both their 'Fred' and 'Gertrude' courses for a tournament where you could win the incredible Forever Manchester Jacket…it's more prestigious than the Ryder Cup's famous green jacket (maybe).
The event is kindly sponsored by Manchester-based chartered certified accountants and business advisors, Sedulo. Paul Lindfield, Director of Wealth Management at Sedulo said: "We set-up 'The Sedulo Community Project' where we give back to the North West community and we're always keen to support and work with people in and around Manchester City Centre. We have been aware of past events and they sound like a fun thing to be a part of!"
Tickets will cost £10 to play or £5 to spectate. Both tickets will include a drink of your choice at Junkyard Golf's bar.

About the tournament
We're looking for 81 players to make up 27 teams of 3. If you sign up together you can play together but please note you will be playing against each other from the off as the winner of each round is the one who will go through to the next stage.
The tournament will go as follows
Round 1 81 players (27 teams)
Round 2 27 players (9 teams)
Round 3 9 players (3 teams)
Round 4 3 players (playing against each other)
About Junkyard Golf Club
Based in the old Friday Food Fight space in the Great Northern Warehouse, where our Halloween Spooktacular was held in 2015, Junkyard Golf features two courses of nine holes crafted from junk found in warehouses and attics.
As well as two nine-hole 'greens', Junkyard Golf Club features a large bar area, a DJ booth and darts and table football areas.
The bar has a great range of themed cocktails, including the Fairway To Heaven, Tee Diddy, Who's Your Caddy?, Golf Lundgren, and Dude Where's My Par? Draught beers and ciders are also available as well as wines and spirits. Each individual in attendance can choose any drink from the bar on arrival.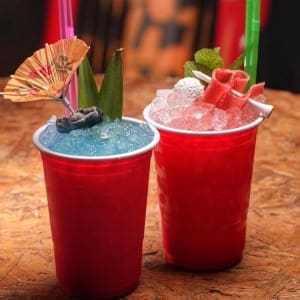 Sign up
Tickets are just £10 to play or £5 to spectate, both of these will include a drink of your choice on arrival.
To sign up simply book using our Eventbrite form below:
Junkyard Golf Club, Great Northern Warehouse
Play: £10 Spectate: £5
All tickets include a drink of your choice from the bar