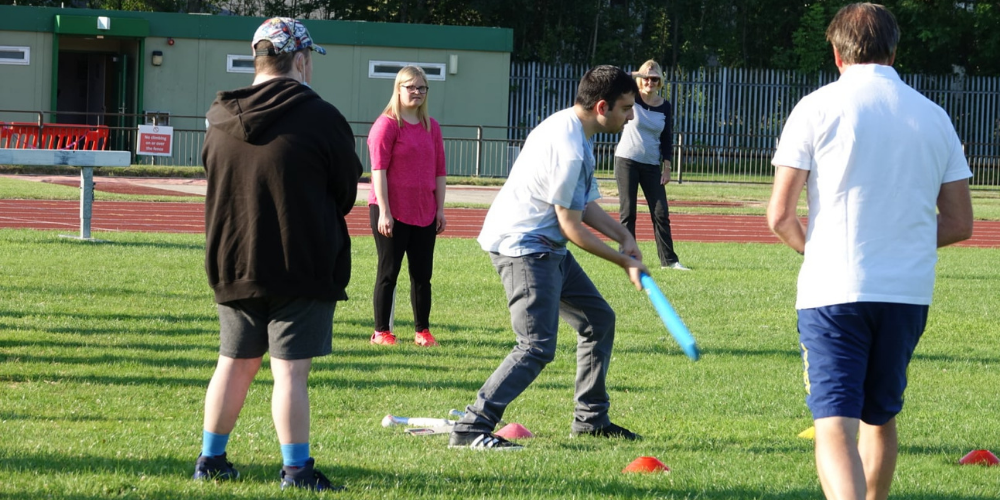 Jigsaw is a member-led organisation aimed at promoting fun, freedom and independence for disabled people in Bury by helping them to enjoy active social lives, achieve their sporting potential and maintain healthy lifestyles. ​
Set up in 2006, Jigsaw operates as two sub groups – Jigsaw Bury and Jigsaw Link.
Jigsaw Bury works in partnership with Special Olympics Bury to provide various sports based activities and sessions as well as exploring and developing new sporting opportunities. These enable group members to participate in local, regional and national sporting competitions.
Jigsaw were the first sports club in Greater Manchester to receive the English Federation of Disability Sport (EFDS) Clubmark and activities extend to: Yoga & Pilates, Gym, Basketball, Horse Riding, Boxing, Cheerleading, Dance Fit, Athletics, Swimming, Cycling, Table Tennis, Football, Netball, Badminton, Rounders, Curling, Cricket, Dodgeball and Boccia where Jigsaw have 3 teams competing in the national league.
Jigsaw (Link) provides one-to-one befriending services for local people over the age of 50 who are disabled, or have age-related conditions. They also offer a weekly luncheon club and organises social outings throughout the year as well as providing an Older People's Active Living Programme.
Many of those supported by Bury Link are classed as vulnerable and while lockdown saw many regular activities cancelled, the group responded by setting up a 'Be Kind' project, delivering monthly care packages along with telephone support and befriending service for their members.
These 'care packages' contained essentials including food, drink and toiletries together with puzzle books, pens, novels and CD's to assist mind stimulation. Their telephone befriending service enabled a familiar voice, company and companionship during, what were for many, lonely and uncertain times.
Jigsaw Bury has been shortlisted for the Outstanding Community Contribution Award to be presented at Forever Manchester's Birthday Party on Friday 18th March 2022.
The award is given in recognition of a person or group of local people who have supported their community over a long period of time, delivering sustained and meaningful impact for many, doing something extraordinary.
Click here for more details about our Annual Birthday Party.
---
Date added: 6th December 2021
---