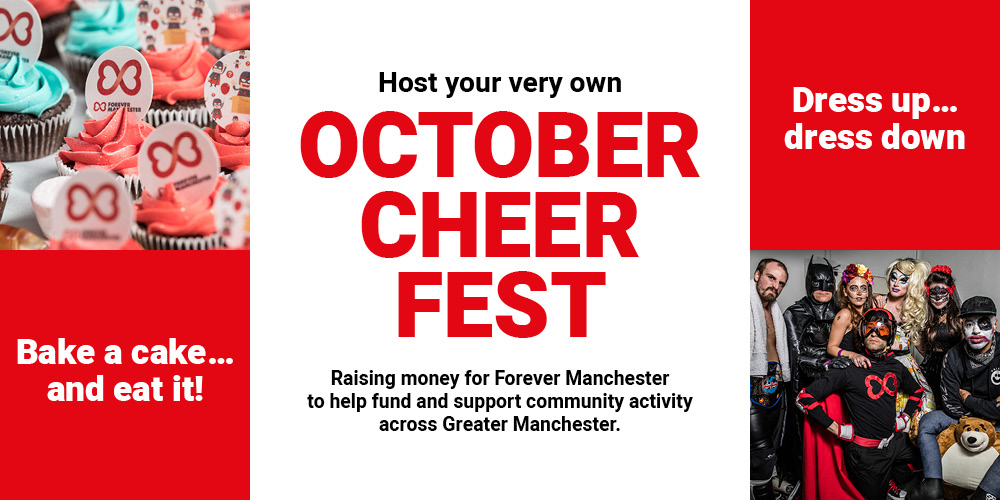 There's still time to get involved in 'October Cheer Fest' where Forever Manchester turbo charges its fundraising throughout October 2019 to help raise a huge chunk of money to help fund and support community activity across Greater Manchester.
There are lots of ways to get involved and don't forget, there's Halloween at the end of October that you can build your fundraising around.
We are delighted to report lots of events and activities have already been planned throughout the month including a Fashion Show, Artwork Installation & Auction, 5k Runs, Hikes, Pub Quizzes, Halloween Themed Events, Arcade Token Amnesties, Fancy Dress Events and Cake Sales.
We'd like to say a huge thank you to all those  businesses across Greater Manchester who are hosting their very own 'October Cheer Fest' to raise money for Forever Manchester. These include:
The Printworks, Future Shock Wrestling, Frog & Bucket Comedy Club, Realm Recruitment, Pixel Kicks, Alex's Bakery, Flight Club, Code Nation, HSS Hire, Engine Transformation, Datacentre Plus, DCB Group, Auto Trader, One Stream Software, Zen Office, Hotel Indigo, Forward Role, Standby Productions, Venditan, Beech Holdings, Ampersand, pro-manchester, CDL, Full Comms, Aegon, Hologic, Express Solicitors, Lightbulb Media, Nine St John Street Barristers Chambers and Atec Egnieering Solutions.
If you need some inspiration and information to help you with your fundraising challenge, please read below. Also check out our downloadable handy Fundraising Guide that contains all this information and more, together with our fundraising tools and Cheer Fest Poster.
If you want to take part in October Cheer Fest, please let us know via:
---
For The Fun of it.
Whatever fundraising activity you choose to do, make it FUN.
---
For Going The Extra Mile.
Whether that be running, cycling, walking, climbing, swimming, abseiling, skydiving or any other crazy challenge, set yourself a challenge and push yourself to the limit.
---
For The Office.
In every office there's that group of supergiddy, fun-filled bods who will take on anything to build team spirit and raise money for Forever Manchester.
---
For The Glitz And The Glamour.
Some people and companies have taken raising money for Forever Manchester to a whole new level.
---
For The Ease of It.
If you work in a business that sells something, you may want to create your very own Forever Manchester version of it to raise money.
---
Take Part in Captain Manchester's Magical Tombola
If you're thinking of doing a raffle, why not encourage your staff to take part in our monthly Tombola.
---
If you have any questions regarding fundraising for Forever Manchester,please do not hesitate in contacting us:
For more information about fundraising for Forever Manchester, click on the button below.