Andrew Trott-Barn pulled off another incredible Spooktacular evening on Halloween.
Held at Halle St Peter's Church behind Ancoats, the night saw stars dressed as zombies, ghouls and friends partied the night away.
We are still putting together a final figure for how much was raised on the night – so keep your eyes peeled for that.
Famous faces, Forever Manchester staff (pictured), Ambassadors and supporters were almost unrecognisable as they donned spooky makeup and daring costumes for the charity event.
Stars that attended on the night included Coronation Street stars Brooke Vincent (Sophie Webster) and Katie McGlynn (Sinead Tinker) who arrived after finding out what goes bump in the night at our Halloween Lockdown, which raised £3,100.
A great night was had by all, with 'Mosters Inc' winning best dressed – a woman in a big blue fluffy costume (see below).
Mirror Ball and Spooktacular creator, Andrew Trott-Barn was dressed as a werewolf is a prosthetic mask that took three hours to apply – commitment to the cause!
Huge thanks goes to Andrew, Siobhan Hanley and Daisy Pickles who made the night as brilliant as it was. Thanks also go to Morgan Leahy, Owner of The Offices/53 King Street where our Lockdown was held.
Special thanks also go to main sponsors Express Solicitors and bar sponsors the Liars Club, whose kind donations made the night happen.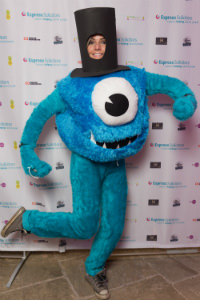 Best dressed on the night