Saturday 31st October saw the third annual Halloween Spooktacular and Halloween Lockdown, which together raised £10,500.
Once again, Andrew Trott-Barn and his Mirror Ball team pulled a night to be remembered out of the bag.
Nearly 600 people were in attendance on the night dancing the night away in the best fancy dress we've seen in a while!
Spine-chilling glamour was brought to Great Northern Warehouse where the party went on into the wee hours of the morning. We're sure there were a lot of sore heads the next day!
The winner of best dressed on the night was a nutritionist who came dressed as her worst enemy – McDonalds fries! The home-made outfit was excellent and can be seen below: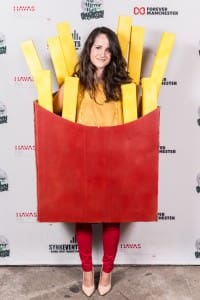 Host Andrew Trott-Barn's outfit once again didn't disappoint as he dressed up as a crash victim with glass sticking out of his face and arm: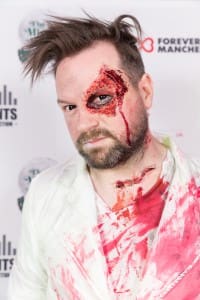 The Halloween Spooktacular has, like its big sister The Mirror Ball cemented its place into Manchester's social calendar with soap stars such as celeb couple Hayley Tamaddon (Coronation Street) and Joe Tracini (Hollyoaks) in attendance of hair guru Andrew's Halloween Spooktacular.
The Spooktacular also saw man-sized babies, the Ghostbusters, Jigsaw, skeletons, jesters, Frankenstein and more.
Huge thank you goes to headline sponsors Havas PR, who also paid for 20 of their staff to come along. Lighting sponsors Synk Events, whose lighting and rigging created a great atmosphere on the night. As well as this, The Hill Group team attended as ticket sponsors and also raised more money by selling raffle tickets on the night.
All of the sponsors of the evening went that extra mile to support Forever Manchester – massive thank you goes to them!
On the other side of town we had eight brave Manchester personalities trapped in the bowels of The Palace Hotel, raising money for Forever Manchester.
Each participant had to plea to family, friends and supporters to help free them first. The individual that raised the most money in the build up to the night was freed first.
This year's winner was Black Dog Owner and entrepreneur Ross MacKenzie, who raised over £1,000. Following him was Ambassador Alan Townley, then ex-jockey and model Leonna Mayor, our Captain Manchester, model Sarah Amelia, singer Jsky, Viva Magazine Editor Emma Wilkinson and last but definitely not least, model and daughter of late comedian Les Dawson, Charlotte Dawson.
Each of the contestants were then invited over to the Halloween Spooktacular to celebrate being freed.
If you were there on the night, head over to our Facebook page to have a look at photos taken by photographer Carl Sukonik (The Vain Photography), who once again captured the night brilliantly.
Huge thank you to everyone who attended on the night, a great night was had by all and the Fancy Dress Police on the door definitely weren't disappointed with the incredible effort everybody had put in.