Are you a community group or project benefiting people in Moston and Harpurhey? Well these funds could be available to you!
Closing on Wednesday 20th April, awards of between £1,000 – £5,000 are available to community groups in Harpurhey and Moston, through the Fourteen Programme.
These funds are available to community projects which seek to contribute at least one of the following Fourteen programme outcomes:
Improve perceptions towards disability and impairment; understanding 'disability' as an individual with a physical or mental impairment that impacts on their ability to carry out daily activities
Improve individual wellbeing, understanding wellbeing as "feeling good and functioning well"
Overcoming isolation through providing opportunities for individuals to participate or volunteer; to feel valued in their community; and, to ensure all role models are celebrated
Connecting Communities through providing opportunities for individuals to engage and actively contribute in their community, ensuring people are proud of the place they live and are confident in making friends
Available via the Fourteen programme, funds are available to groups operating within the boundaries in the map below: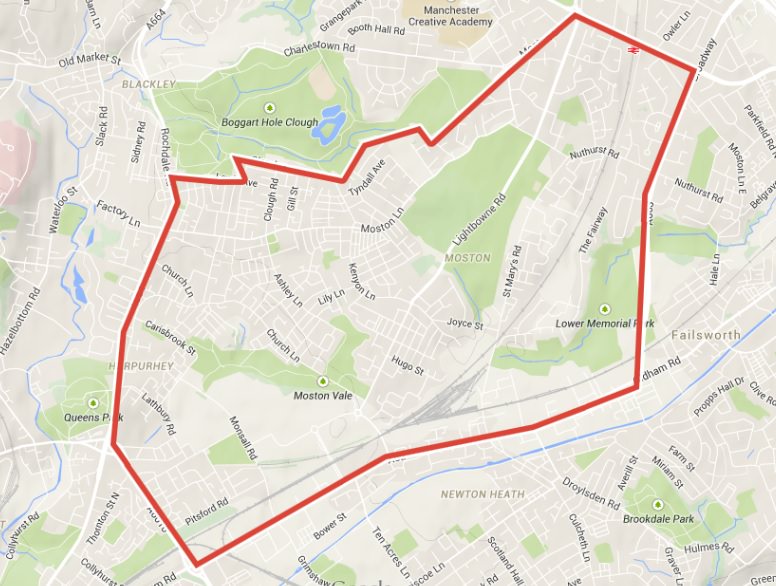 What is Fourteen?
Fourteen is a programme funded by Spirit of 2012, a charity set up by the Big Lottery Fund to connect events to communities across the country; tackling disadvantage by supporting opportunities in sport, physical activity, culture and the arts, volunteering and social action.
Forever Manchester is managing the Fourteen programme in Manchester, where it will support the communities of Harpurhey and Moston. As part of this work we are delivering a range of activity, which includes FM awards.
How can you apply?
Here at Forever Manchester, we recognise that great things happen in and around Greater Manchester on a daily basis and we want to shout about it! The idea behind this application is to provide a positive, friendly and accessible approach to gaining much needed financial support for your group.
Applicant organisations should have an annual income of under £150,000.
If you've got any questions about applying for these funds, please contact our Awards Team on 0161 214 0940 or email awards@forevermanchester.com.
You can also apply online here.