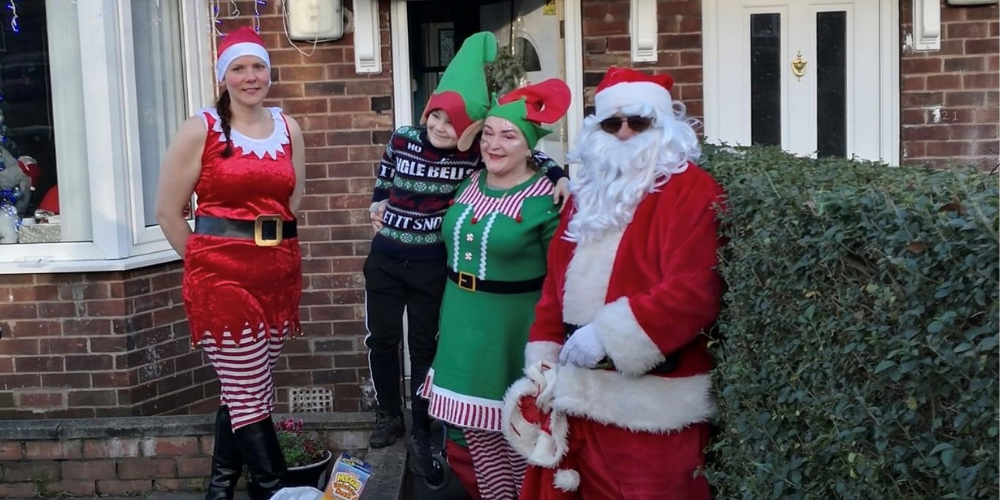 Fun 4 Friends is a demonstration of true grassroots community activity in Wythenshawe. It started when local resident, Tracey, applied for a small amount of funding from Forever Manchester after exploring ways to bring a smile back people's faces after the first lockdown.
The idea for a Halloween Spooky Trail was born after Tracey consulted with her neighbours to gauge appetite and interest; the response was quite amazing. A Facebook group, 'Benchill Road Community' was then set up to enable neighbours to connect, liaise and put their own fun ideas forward.
Tracey used the funding to purchase decorations, pumpkins and fairy lights to line the road and also supplied decorations for those families wanting to take part, but weren't able to afford to buy decorations of their own.
Despite local people being apart for many months, Tracey successfully rallied her local community and the spooky trail on Benchill Road looked amazing.
Fun 4 Friends Facebook group has rapidly grown and now contains 108 members who use it to connect, discuss ideas and contribute to future fun-based events. People now also use the group as a way of acknowledging neighbourly kindness and good deeds by shouting out thanks and acknowledgements.
Local resident Cath, received a shout out from her appreciative neighbours expressing their gratitude for regularly putting their bins away, come rain or shine. Such simple acts are always encouraging to see and it is often little things like this that help to build and maintain relationships that strengthen our communities.
Since staging their Spooky Halloween Trail last year, Fun 4 Friends has now engaged and connected with 80% of local residents. The group intends to keep growing and building resilience as neighbours and planning and undertaking activities as a street.
Fun 4 Friends love to put smiles on faces of their community and happily encourage anyone to get involved. The group has also expanded its activities, recently purchasing a gazebo and arts and crafts equipment in order to stage activities and events going forward. This will help to remove the expense of room hire while enabling the delivery of events and activities at the drop of a hat, especially now that people are re-engaging and talking to each other much more and showing a willing to help each other out.
Fun 4 Friends now plan to run workshops and encourage local people with various skills and assets to share these with their neighbours. They organised other activities including pumpkin carving in the run up to Halloween and bunting making for a community Christmas trail.
Fun 4 Friends has been shortlisted for the Connecting Communities Award to be presented at Forever Manchester's Birthday Party on Friday 18th March 2022.
The award is given in recognition of a person or group of local people who have formed a project or put on an activity which brings people together, benefiting others in their neighbourhood.
Click here for more details about our Annual Birthday Party.
---
Date added: 16th December 2021
---