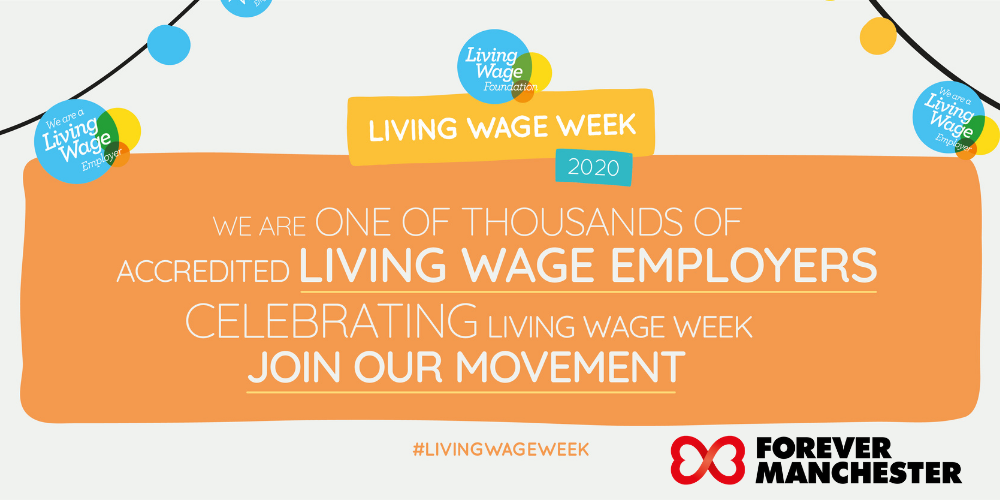 Since 2015 Forever Manchester has been part of a growing list of accredited organisations paying the Living Wage across the UK on a voluntary basis. The Living Wage commitment means that everyone working at Forever Manchester receives a minimum hourly wage of £9.50, regardless of whether they are permanent employees or third-party contractors and suppliers.
The Living Wage is an hourly rate set independently and updated annually. The Living Wage is calculated according to the basic cost of living using the 'Minimum Income Standard' for the UK. Decisions about what to include in this standard are set by the public; it is a social consensus about what people need to make ends meet.
The new rate of £9.50, announced on 9th November 2020, is significantly higher than the national minimum wage of £8.20 for under 25s and £8.72 for over 25s.
Nick Massey, Chief Executive at Forever Manchester said: "I'm proud that Forever Manchester is one of 7,000 accredited Living Wage Employers committed to paying employees and suppliers the Living Wage. This reflects our ethos to make sure that our talented people are rewarded for a hard day's work with a fair day's pay."
To find out more about Forever Manchester, our funding news, fundraising activities and exclusive Forever Manchester news, sign up to our mailing list.
For more information about the Living Wage visit: www.livingwage.org.uk
---
Date added: 10th November 2020
---