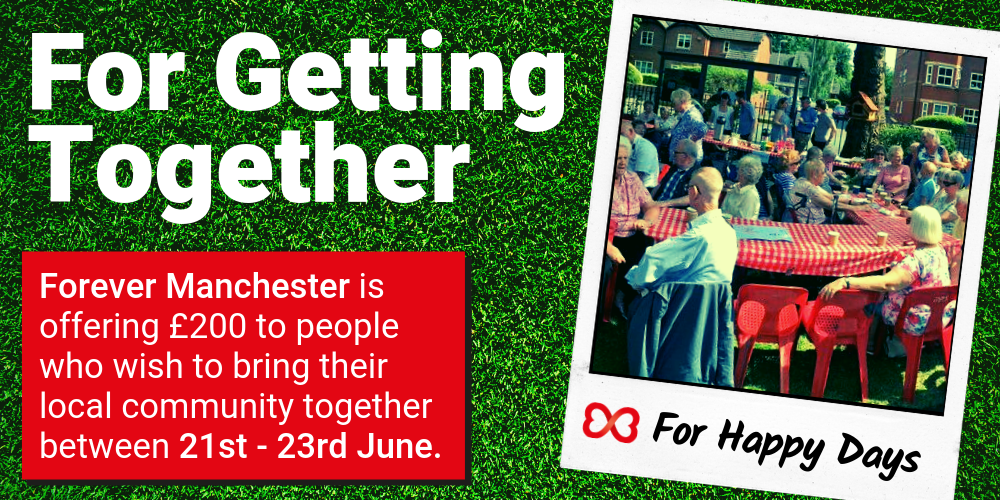 CLOSED FOR APPLICATIONS
The deadline for applications was 7th June.
Bringing local people together to create something special.
Forever Manchester is encouraging people across Greater Manchester to come together with neighbours and friends over the weekend of 21st – 23rd June 2019.
We are delighted to announce that we will once again be offering £200 to support 100 groups of people who might need a bit of extra help to stage their event. We will be accepting applications between 24th May and 7th June 2019. Successful applicants will be informed via email, and payments will be made by Friday 14th June.
We can't wait to see what you all have planned this year, whether it be…
For getting together with your neighbours.
For having a street party with loads of food.
For games in the local park followed by a BBQ.
For an afternoon tea in your local community hall.
For bouncy castles and face painting.
For a walk around interesting places in your local area followed by ice-creams all round.
For what your community will enjoy.
For Happy Days!
If you're not sure if we could consider you application for funding, please contact a member of the Forever Manchester Communities Team and we'll be happy to help, 0161 214 0940 or email awards@forevermanchester.com
If we receive more eligible applications than there are awards available, decisions will be made via a draw.
Forever Manchester is the only charity that raises money to fund and support community activity across Greater Manchester. We believe that connected communities make stronger, happier communities and love any event that brings people together, so we're delighted to offer our support to people who wish to celebrate where they live with a party!
Forever Manchester is all about…
Putting smiles on the faces of our local communities.
Supporting local people transforming the lives of others.
Bringing local people together to create something special.
Caring about those people who care enough to act.
Championing local people doing extraordinary things together.
Read about the previous Great Get Togethers we supported: