On Wednesday 20th April, Forever Manchester Women raised an incredible £2,085 to support female-led community projects across Greater Manchester.
The event was sponsored and hosted by Slater and Gordon at their beautiful event space in Mosley Street in Manchester city centre.
The sun shone on what was a beautiful evening, and our attendees had the treat of being able to sit on the balcony at the impressive offices, which had great views in the 18 degree heat, which we aren't usually treated to in Manchester, let alone in April!
Once again we heard from two inspirational speakers, who had very different stories…
AJ Read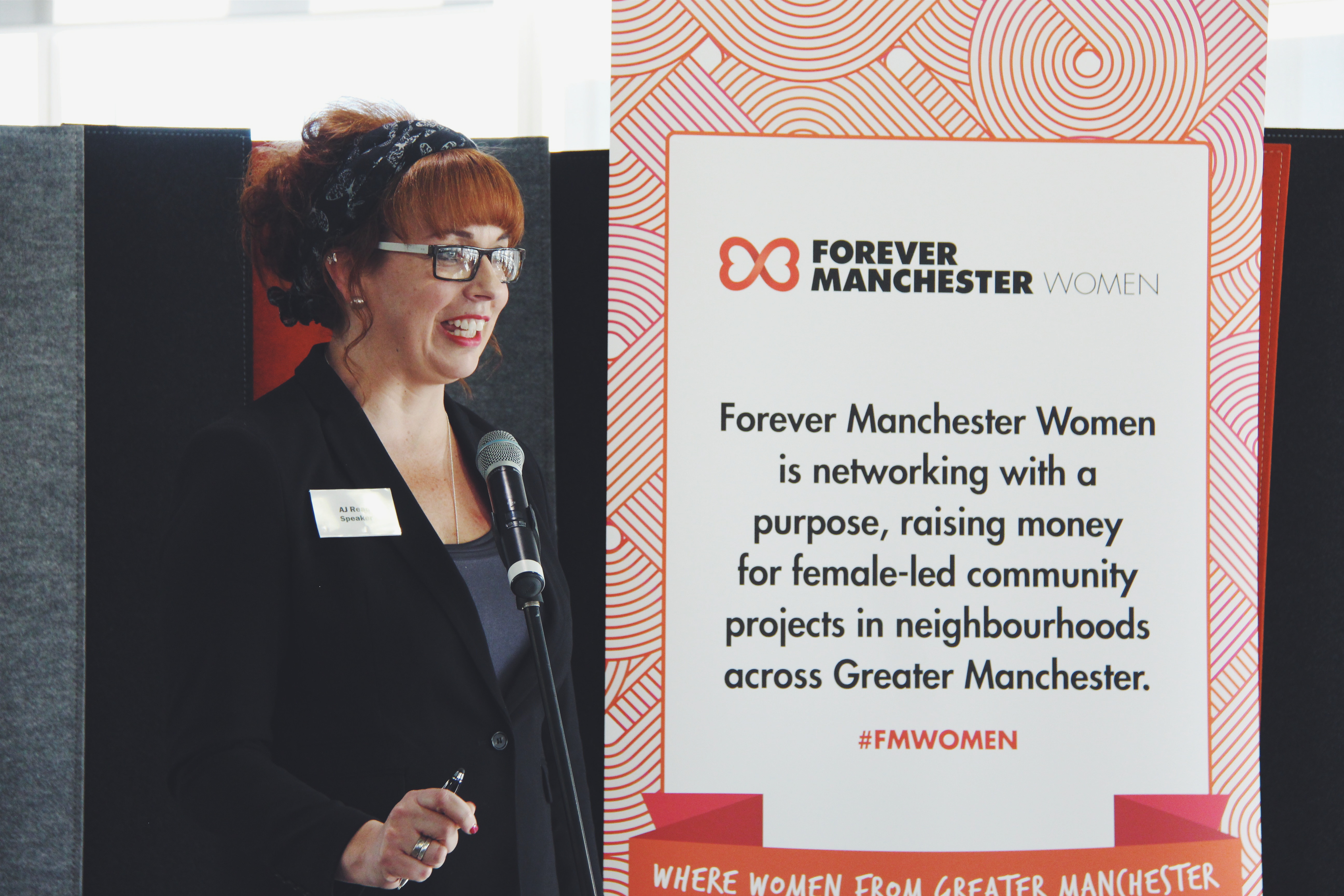 AJ Read, the Publicity & Engagement Manager at ITV in the North spoke of her incredible journey working in television, which saw her producing news during difficult times in Britain, including the Gulf War and the Bosnian War, which both took place in the early-mid 90s.
AJ also spoke of difficulties she'd faced as a young woman in PR, with a hilarious anecdote about ensuring she wore no lipstick or heels as a 6 foot redhead, in order to not "scare" the MD of a large engineering firm she used to work with (at his request).
As well as this, AJ touched on heart warming moments in her career, speaking of when she landed her role at Coronation Street for the 50th year anniversary. She spoke of a conversation she had with Bill Roache (aka the Ken Barlow) during the anniversary year. She was warmed by the fact that she was stood on a street that her late grandmother once loved dearly and looked around and realised the role she was given was a very special one, and would probably never be repeated in television again.
I think all attendees would agree that AJ's career has definitely had an incredible journey, from the BBC, to a beach bar in Australia, to a Marketing career, back to the BBC, off down to Cornwall to run a wine bar, back up North to work at Cosgrove Hall, loads more in between and her latest project was moving the whole of ITV in the North from a large Quay Street venue to three floors of a building in Media City.
An inspirational and incredible story for sure!
Anna Chopping & Zoe Taylor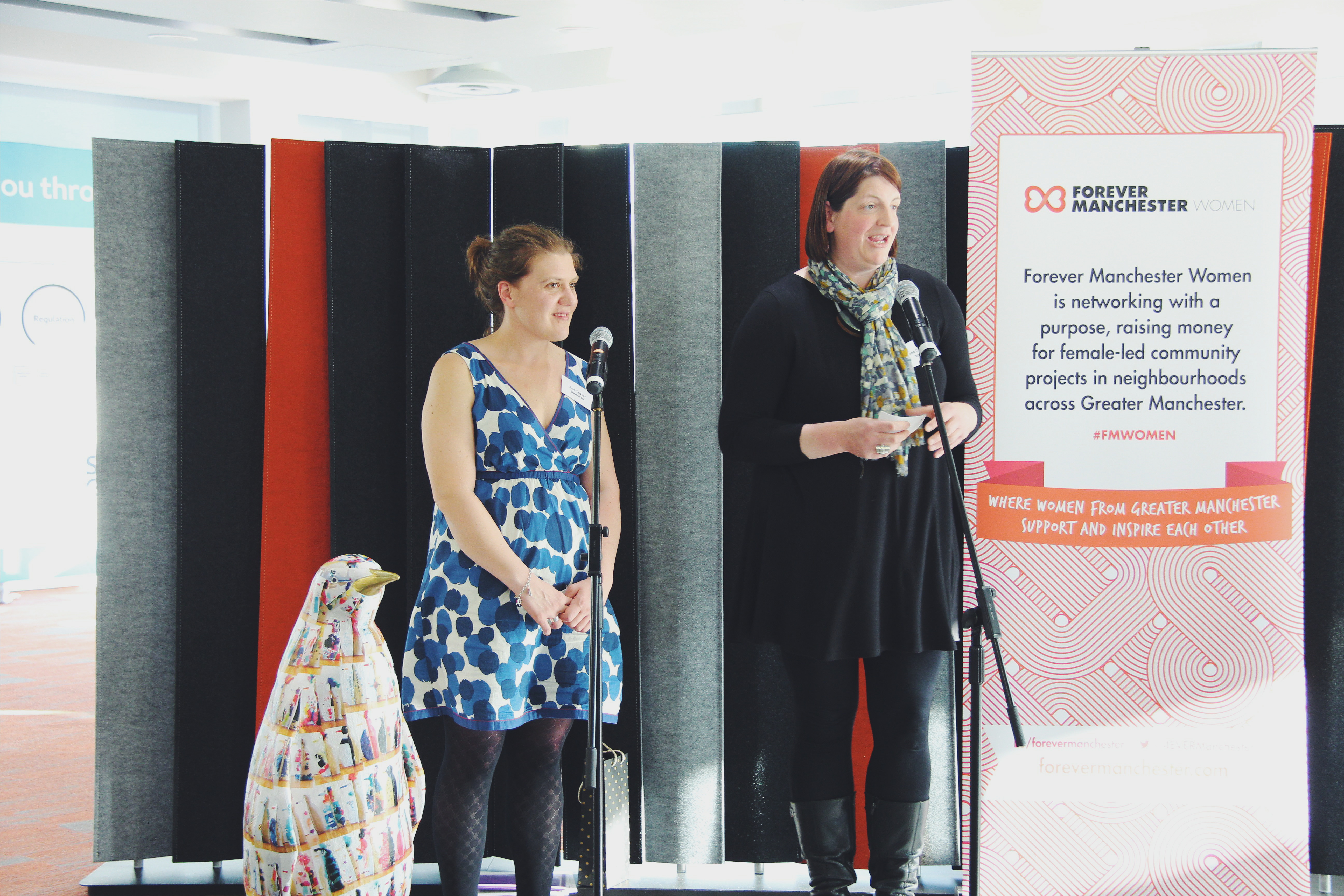 Next we had the wonderful Two by Two; a community project based in Sale in Trafford. Both creators, Anna Chopping and Zoe Taylor spoke of their journeys and their passion for creativity and arts. What was inspiring and interesting about Two by Two, was that it had two aims. The community project was originally started to give children and their parents free arts sessions but has now seen itself going in two directions.
Their main aim is to still provide this, which they do in a variety of ways including supporting the Sale Arts Trail. One project, which kick started their second direction was a mapping activity, where they spray painted animal's feet onto the floor in the town centre.
These feet led to different independent shops, and while in the shops children had to collect stamps. This inspired Anna and Zoe to do more to encourage people to visit Sale town centre and visit the independent shops that are there.
Often these shops struggle with nearby shopping areas such as the Trafford Centre and Manchester city centre. Anna and Zoe now aim to support smaller family run businesses with their art.
This summer will see their biggest project yet, with local businesses and schools all getting in on the fun. They'll be hosting a zookeepers event, where local businesses and schools will decorate animals including two 12 foot giraffes, elephants, monkeys, lions and more with 32 animals lining the streets for local residents to find, which will also entice people into the town centre and hopefully get more people supporting local businesses too!
The project has seen loads of volunteers and local children come together over their love of art and has created great community spirit.
_____________________________________________________________________________________________
If you'd like to head to our next Forever Manchester Women event, get 20th July in your diaries! Keep your eyes peeled on our website for the announcement of our next event, which will be hosted at Manchester House and once again sponsored by Slater and Gordon.
Huge thanks to sponsors and hosts, Slater and Gordon whose event team put on a great evening, which included delicious canapés!
Thanks also goes to our speakers AJ Read, Anna Chopping and Zoe Taylor who ensured our attendees were once again treated to some incredible stories.