On Wednesday 20th July, Forever Manchester Women raised £2,900 to support female-led community projects across Greater Manchester.
The 'networking with a purpose' event was sponsored by Slater and Gordon and hosted at the gorgeous Manchester House. Once again we heard from two inspirational speakers, who had two very different stories…
Carolyn Mellor
Carolyn Mellor is the Managing Director of homes4u, an estate and letting agents in Manchester, and attendees at July's event were treated to her inspirational story from 20 years in retail to bringing her focus on customer care to homes4u.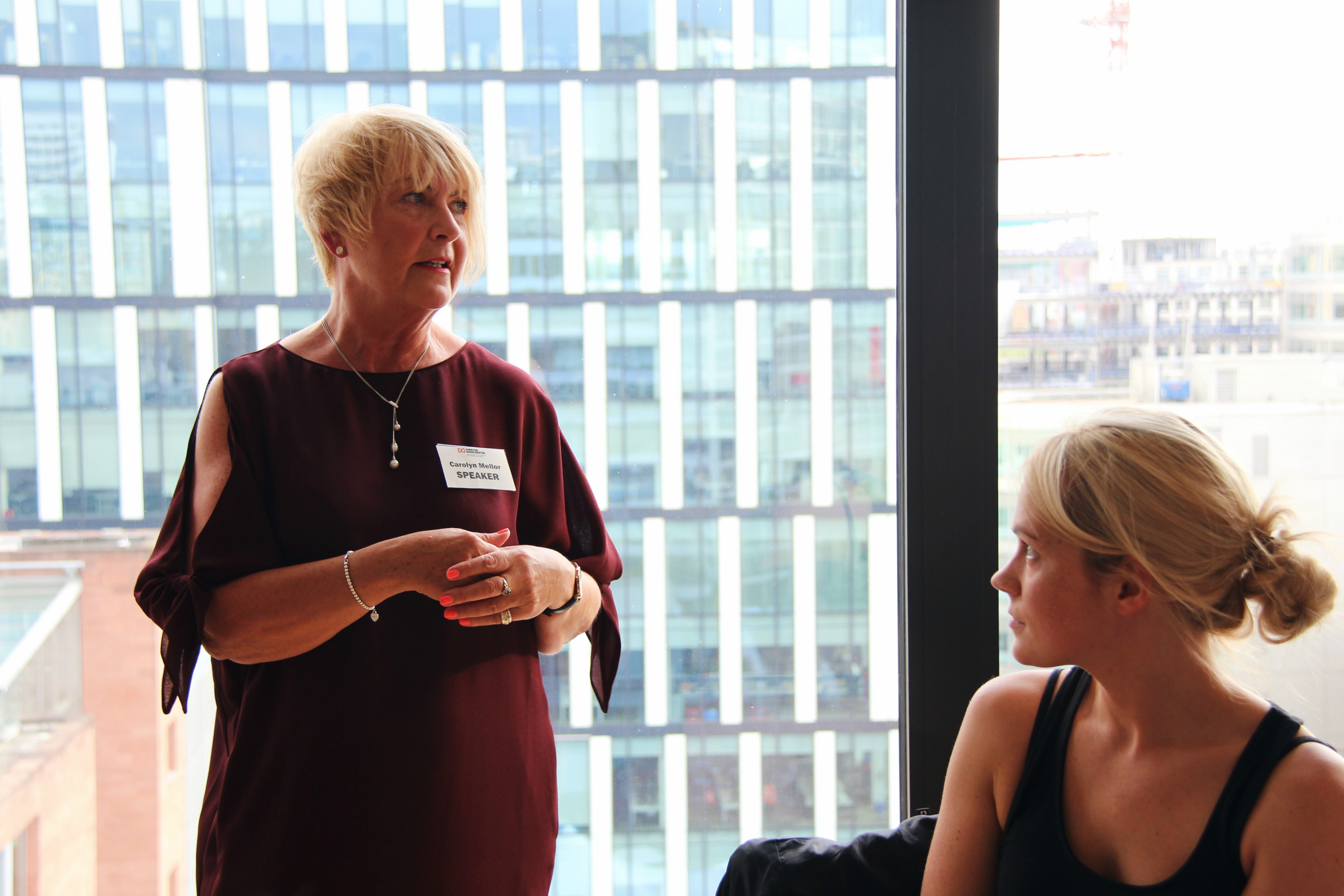 Carolyn spoke about opening the first Dorothy Perkins in Northern Ireland at a troublesome time, doubling the turnover expected in the first year, and seeing 10 more branches open shortly after.
Carolyn then moved to England, taking with her the belief that "you need to have really good customer service, and you need to have real attention to detail. These are the two things that I took from retail and into property."
Carolyn puts her success down to these four Ps:
Passion – "I absolutely love what I do. I believe people buy people, not companies. The energy that comes from you, if you're passionate about what you do, means that as you're talking to people they believe you're going to deliver what you say you'll do."
People – "We have training within the industry, and encourage people to continually learn and gain new qualifications." Carolyn will always meet with new staff, have a coffee with them, and get to know them – not as the position that they're in within the company, but as the person. They then get a chance to get to know Carolyn, not as the MD.
Interesting advice from #CarolynMellor @homes4u 'get to know the people in your business, not as the MD but as the real you' #FMWomen

— Debbie Grimshaw (@DebbieG_EA) July 20, 2016
Procedures – "I was saying to someone earlier: 'It's very easy to become a busy fool, you're busy all the time – but do you actually get any feedback from what you're doing?'. Repeat the things that went well, and don't do the things that didn't. It's incredibly important to measure." Profile – "Sandy Lindsay and Tangerine PR were very involved in setting up the branding and introducing homes4u to Manchester… We drove around Manchester in a four-poster bed!" Carolyn believes "profile doesn't always have to be the same. It can be fun."
Great to hear successful business woman @carolyn_mellor speak this evening @4EVERManchester women event. #hardwork #determination #inspired — Charlotte Percy (@cbrinsley) July 20, 2016
Jane Kenyon
Jane Kenyon is the founder of Girls Out Loud, an organisation that inspires, motivates and empowers teenage girls. Our guests had the opportunity to hear her inspirational story.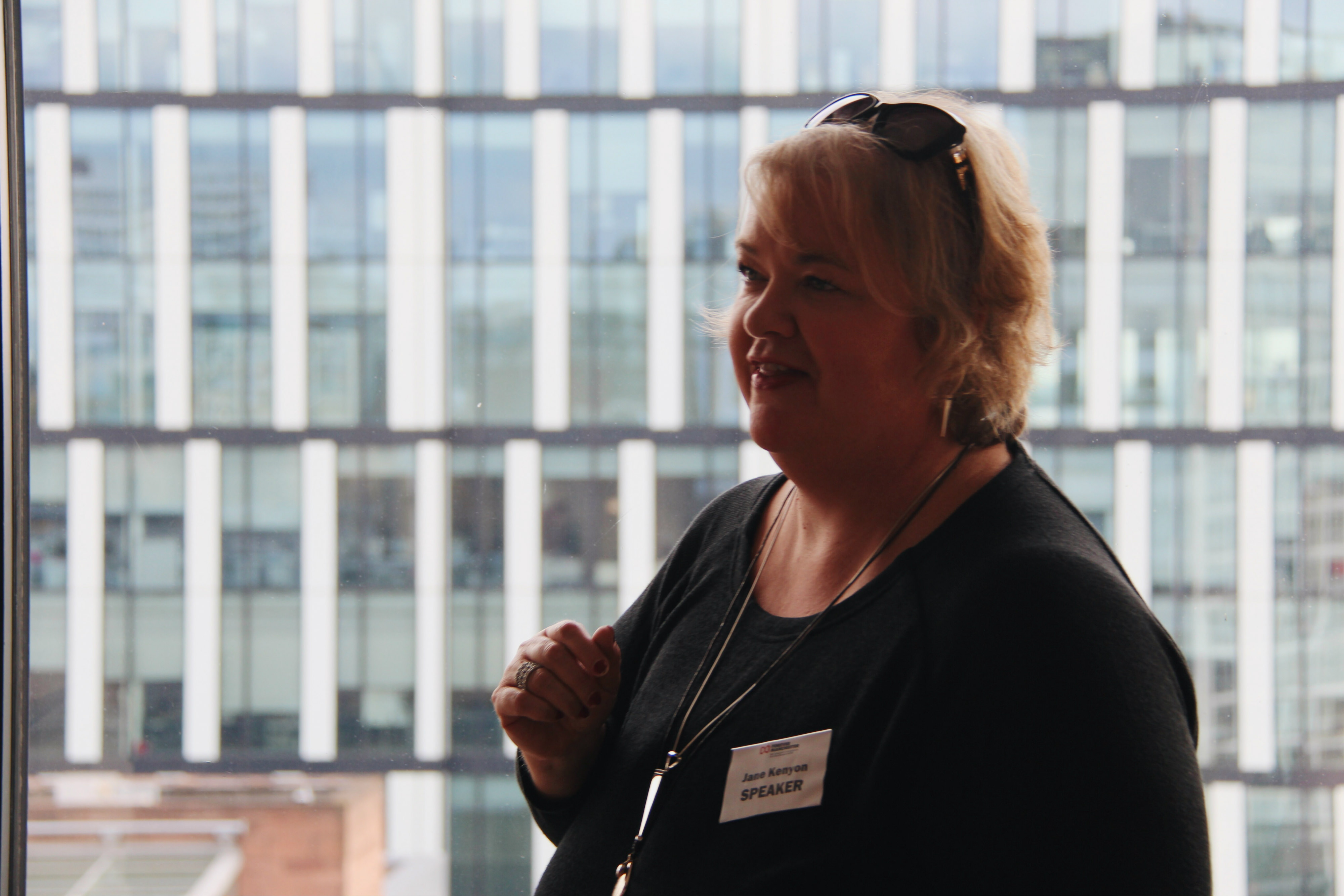 Born in Salford and brought up in East Manchester, Jane talked about her life as being in its 'third act' – her first: climbing the corporate ladder, "learning the politics, and earning lots of other people lots of money".
She then decided at 30 that she needed to do something for herself, bringing the attendees of our event to Jane's second act as a serial entrepreneur in B2B and people development.
Her third act is to give back – to "take everything that I know, all the experience that I've had, all the critical moments that I've survived (and boy have I survived some!) all the spectacular failures, my knowledge around coaching and female coaching, and to take this into a legacy project."
Her legacy project is Girls Out Loud, a social enterprise with a charitable foundation administered by Forever Manchester. Girls Out Loud aims to raise the aspirations of teenage girls, by building their resilience, confidence and self-belief because, as Jane put it, "having aspiration without self-belief is just a dream, and it doesn't work."
Jane believes the cornerstone of Girls Out Loud is about putting the right women in front of teenage girls. She gestured around the room and told our attendees that these girls needed women like them. "We are in the middle of a teen girl crisis… do not be misled. These girls are not empowered. These girls have not found their voice yet."
Shocking statistics about teenage girls mental & sexual health in the UK – what are we doing to help the next gen?@4EVERManchester #FMWomen

— Jane Brazzill (@JaneBrazzillPwC) July 20, 2016
What followed were some very shocking and sobering statistics about teenage suicide, self-harm and mental and sexual health. Putting real women in front of them to dispel some of the myths and harmful messages that girls now have access to on TV, music videos, social media and the internet, and showing them a different path is one way to combat these problems. "We have to be responsible," she said. "We have to be responsible for what's going to happen next."
I'm inspired. You are already enough says Jane Kenyon @girlsoutloudorg @4EVERManchester #FMWomen — Lucy Lomas (@lomaslucy) July 20, 2016
Huge thanks to our hosts, Manchester House, who put on a great evening, which included delicious canapés. As well as our fabulous raffle prize donors: Manchester House, King St. Townhouse, All Star Lanes, Chase Distillery and Verdure.
The incredible amount raised will help support female-led community groups across Greater Manchester, and brings the total that this regular event has raised to over £10,000!
The BPS girls are enjoying @4EVERManchester's event @CarolineSwain01 @KarenMcL2015 @ANNERR_ @jemma_fleetwood pic.twitter.com/Upj75UDyTp

— BPS Family Law (@BPSfamilylaw) July 20, 2016
@Brother_UK ladies supporting @4EVERManchester#FMWomen@Sammyjohnson79@cjnicky007@GemmerCrozier@DebbieG_EApic.twitter.com/tUDvG0J4Yv — Louise Marshall (@LouiseMarshall6) July 20, 2016
To see photos of the event, check out our Facebook page.
If you'd like to head to our next Forever Manchester Women event, tickets can be purchased online by using the ticketing form below or, if you wish to receive an invoice for your ticket(s), please email Cheryl Hill at: cheryl@forevermanchester.com