If you're a fundraising all-rounder why not join us as we drop in at Lancashire Country Cricket Ground for our annual abseil?
Are you an adrenaline junkie looking for a challenge that sits somewhere in between your annual 10k and a sky dive? Well, we've got just the thing…
Forever Manchester's annual abseil is taking place on Friday 18th March at Emirates Old Trafford in partnership with the Lancashire County Cricket Club Foundation.
We are looking for over 100 daredevils to take part in the challenge and raise money for Forever Manchester in the process.
All money raised for Forever Manchester will go to support community projects across Greater Manchester, helping local people to do extraordinary things together.
Registration is only £20, but we ask for a commitment to raise a minimum of £100.
So, if you are an adrenaline junkie seeking a new challenge, or a company looking for a great team building experience, this a great event for you to get involved with.
You'll be in good company with our very own Captain Manchester set to race the LCCC Foundation's mascot 'Lanky' down the 120ft Emirates Old Trafford main entrance building, home of Lancashire County Cricket Club.
The Abseil is being conducted by Innes Macdonald from Mountain Monkeys
PLEASE NOTE: Participants must be over 16 years old.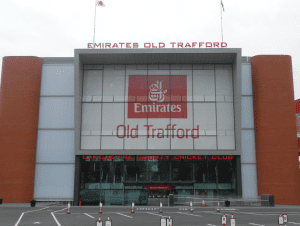 How to book your place at the Abseil
The Abseil will be split into three sessions between 12 noon to 7pm.
You can choose to abseil at the following times:
Lunchtime: 12 noon to 2pm
Afternoon: 2pm to 4pm
Evening: 4pm to 7pm
As we are working in partnership with Lancashire County Cricket Club Foundation, you will see on the registration form options to choose Forever Manchester or LCCC Foundation. If you are wanting to raise money for Forever Manchester, please ensure you select the Forever Manchester Registration Fee ticket.
Once you have selected the relevant ticket, you will be asked to enter your details and select your preferred abseiling time slot. You will then receive an email to confirm your booking.
What to wear
On the day we recommend you wear comfortable clothes that allow for a lot of movement when you're abseiling. Sensible shoes, such as trainers or plimsolls are also required on the day to allow you to have some grip when abseiling down the 120ft wall.
Fundraising for Forever Manchester
To set up your fundraising page on JustGiving please follow the steps in our JustGiving Help Guide
Additional Information
If you require more information about the Abseil, please do not hesitate in contacting us at marketing@forevermanchester.com or ring us on 0161 214 0940