The sun is due to shine, Manchester will look pretty and First Friday has moved for the summer.
The next First Friday is Friday 5th June 4-6pm.
Lock 91's Lounge Bar (in the basement) will now host our First Friday relaxed networking event. The Lounge Bar has the added bonus of an outside terrace for everyone to enjoy the sun and look out onto Rochdale canal.
Lock 91 is situated on Deansgate Locks in a handy City Centre location right next to Deansgate train and tram stations.
First Friday brings together an eclectic mix of local business professionals in a relaxing environment allowing you to mingle with like-minded people over a pint or two.
Members of the Forever Manchester staff will be on hand to make introductions and share upcoming activities for you to get involved in to raise money to support community projects across Greater Manchester.
As always there will be live music from a rising local talent.
Last month over 100 people attended, creating a real buzz, with many staying on well after 6pm.
First Friday is free to attend, but please register below to book your place(s)
The first 50 attendees will receive a complimentary drink on arrival.
The added bonus of us being at Lock91 means we can all take advantage of the below drinks offers: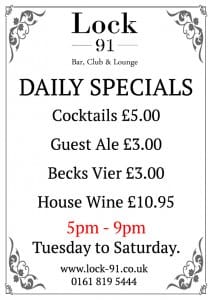 If you'd like to attend May's First Friday on 1st May use the form below to sign up for FREE.
Friday 5th June 4pm – 6pm
Lock 91, Deansgate Locks
9 Century Street, Manchester, M3 4QL