Forever Manchester was delighted to hold its first Corporate Partners Lunch at Cloud 23 of the Hilton Hotel.
Over 70 guests attended the lunch, which was sponsored by Barclays. The event celebrated the support and value of Forever Manchester's corporate partners over the last year.
Guests heard speeches from Forever Manchester Chief Executive, Nick Massey DL , who talked about how Forever Manchester has both supported and delivered support to grassroots groups and projects across Greater Manchester over 25 years.  Nick went on to talk about the fact that community is, in itself, a cause that's central to everyone's lives.
Daily activities and projects delivered across neighbourhoods are the glue that keep our communities together; keeping them thriving and happy – and we are all part of our own communities be that at work, at home or at play.

We then heard from Steve Renfrew, Director of Investment and Wealth Management at Barclays who kindly sponsored the event.  Steve talked about the support from Barclays for Forever Manchester and community support generally.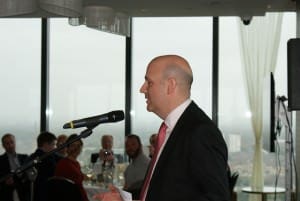 Forever Manchester President, Phil Jones, then spoke about the importance of corporate social responsibility within a company.  He particularly focused on the fact that, over the next 20 years, our workforces will change.  Employees will expect more from the companies they work for and a company that can evidence enlightened social responsibility will engage and retain a more focused employee.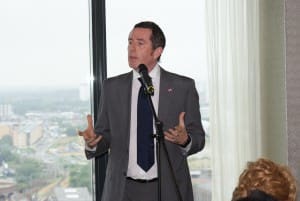 With views across the Greater Manchester region the event was a real celebration of how companies whose staff live and work in our communities can make a difference where they live and work.
A huge thank you goes to all of our Corporate Partners who attended on the day. If you'd like to join them at next year's celebration contact Jean Mills, Head of Business Development via email on jean@forevermanchester.com or call 0161 214 0940. Click here to see our Corporate Wall.