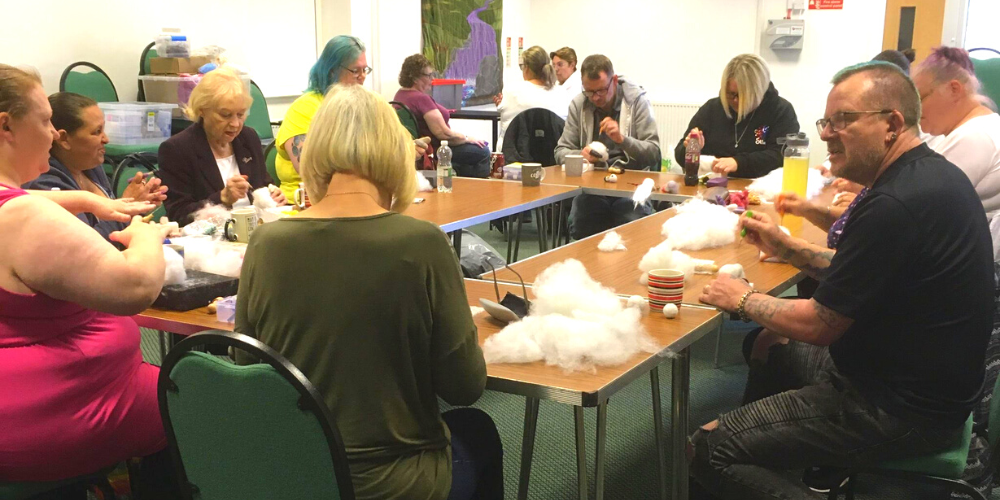 Formed in October 2019, Community Buds deliver workshops in Bury to support those most isolated in society, teaching them new skills to help them succeed in life. Their aim is to get people out of their homes to socialise with others in their local community.
The group was formed by people who understand mental and physical health barriers first-hand, giving them a good grounding to support others. They have a flexible approach to their workshops and listen to the needs of their attendees, encouraging them to put forward ideas for future sessions.
Their homely-feel workshops held in easily accessible community centres, village halls and churches are designed to make people feel comfortable and allows them to open up more.
One of their workshops 'Happy Crafting' combines crafting skills with meditation. They found that mindful, meditative sessions help people feel relaxed and ease into the craft-based workshops.
Jenny is Bipolar and loved painting as a child and had always wanted to do some crafting but never had the time, especially as she has 3 young children. She joined the 'Happy Crafting' sessions to gain some time back for herself.
After posting her art on Facebook, a local shop contacted her offering to stock her paintings and sell them on a commission basis. Not only is Jenny now feeling much more relaxed and confident, her reignited passion for art is now providing finance to the family whilst enabling her to continue doing something that she loves.
It is always worth remembering that, if you support Forever Manchester, you support all this.
The ability of local community groups and organisations to best help people in their community remains dependant on maintaining support for them.
To find out more about how you can get support Forever Manchester please email us at marketing@forevermanchester.com or telephone on 0161 214 0940.
---
Date added: 10th December 2022
---