Baking is a skill that a lot of people in the communities of Greater Manchester utilise to help their neighbours, be it for special occasions or just for a natter over a brew and a slice!
That's just one reason why we've invited you to take part in this year's Caketober, which we have recently launched in partnership with theEword.
Caketober is a month-long celebration of all things cake, giving communities, businesses and friends the perfect excuse to come together and bake to raise money for Forever Manchester throughout October.
'Coffee, Cake and Craft', based in Stretford, Trafford, is a great example of how the money you could raise by taking part in Caketober can go straight back into your local Greater Manchester communities.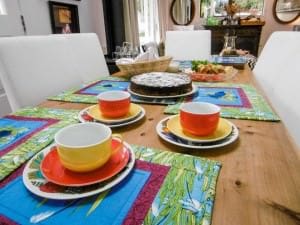 Debbie Hatton, organiser of Coffee, Cake and Craft, said: "I attended an idea works meeting and came on the idea of fortnightly coffee, cake and craft meetings for neighbours (young mums and people who wouldn't usually get to go out of an evening) to meet up and learn a new craft, have a natter, and get to know new and existing neighbours."
Thanks to our £250 Cash 4 Graft award, the group are able to meet monthly for an afternoon session, and share skills such as knitting and crochet, baking and paper craft.
The group has utilised their own expertise and Facebook to bring as many people on their street together to meet their neighbours, learn a new skill or renew an old interest.
Debbie added: "I really didn't think having a cuppa, craft and natter with neighbours would qualify for a grant! It has brought the neighbourhood closer together and has made the street a friendlier place to go out on."
Our Cash 4 Graft awards help local people with ideas for their community to get them off the ground and bring people together. For more information on this fund and others head to our funding page.
If you'd like to sign up for Caketober, head to the website to sign up for free and help support groups just like this one.