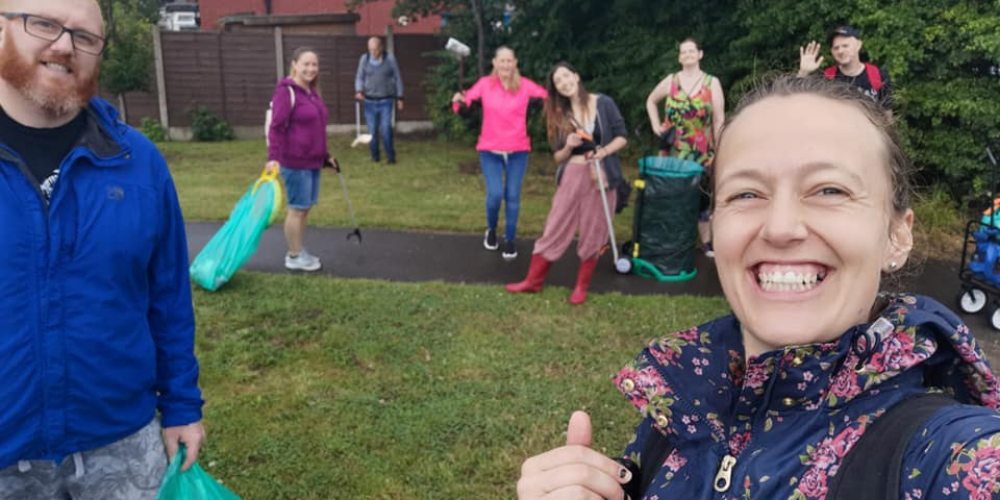 During lockdown, Chervonne Shennan came up with the idea of 'Benchill Litter Pickers' – a new locally based community group to promote the cleanliness and wellbeing of the Benchill community for the benefit of fellow residents and wildlife.
With support and encouragement from Forever Manchester Community Builder Vikki Snowden and a small amount of funding from Forever Manchester to cover the cost of litter picking equipment, Chevronne encouraged her neighbours to litter pick the local area of Benchill Road in Wythenshawe.
Chervonne maintained the groups motivation by organising litter picking exercises that enabled people to meet up at given times and litter pick together. This is when another local resident, Tanya also got involved and has since become a key player in the group.
The Litter Pickers were then introduced to the caretaker at Benchill Community Centre and this developed into a great relationship, enabling the litter pickers to keep the car park and grounds neat and tidy on a regular basis.
Benchill Litter Pickers also now work in partnership with other local groups such as Wythenshawe Waste Warriors and Peel Hall Pickers to assist in the general tidiness and overall appearance of the wider area. Their organised litter picks also uncovered used needles and knives, so the group has also built a relationship with the local Police to help removing such items.
Throughout lockdown and ever since, the group has been able to encourage their community to take back some pride and a little responsibility and ownership of their local area, resulting in a remarkable difference. Less people are now dropping rubbish and more residents regularly stop to talk to the litter pickers to thank them for what they do as well as enquiring as to how they can get involved in keeping the community clean and tidy.
Through her work with the little pickers, Chervonne has now become key member of the Benchill Community Centre Management Committee taking the minutes at meetings. She regularly takes in soups and homemade treats for the centre staff and plans to use her baking skills to entice other local people to get involved and join the committee to enable more local voices to be heard.
Chervonne explains; "We want to encourage cleaner living and encourage more residents to take responsibility for the area they live and work. We were noticing how dirty the streets were in our area and we did something about it. We wanted a cleaner environment and believe that keeping the community clean and tidy also encourages others to do the same. We also wanted to encourage more wildlife in the area and we believe this can be achieved in a cleaner environment."
Benchill Litter Pickers has been shortlisted for the Connecting Communities Award to be presented at Forever Manchester's Birthday Party on Friday 18th March 2022.
The award is given in recognition of a person or group of local people who have formed a project or put on an activity which brings people together, benefiting others in their neighbourhood.
Click here for more details about our Annual Birthday Party.
---
Date added: 4th December 2021
---