World Down Syndrome Day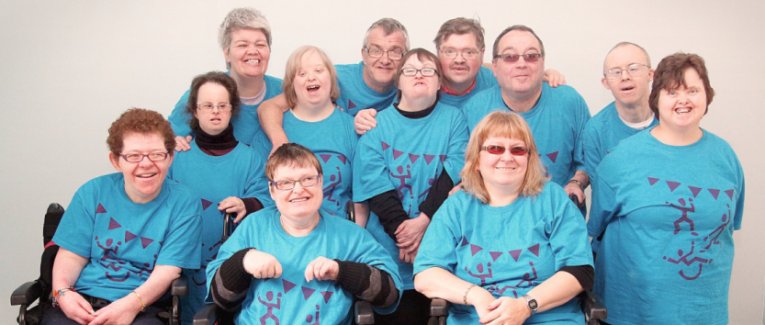 March 21, 2016
Monday 21st March is World Down Syndrome Day.
Across Greater Manchester there is excellent groups supporting people of all ages with Down Syndrome. One of these is DIY Theatre Company, based in Salford.
DIY Theatre Company is an established Theatre Company of Learning Disabled performers.
They have been creating accessible and thought-provoking theatre since 1994. DIY creates performances and other projects which challenge stereotypes, promote inclusion and celebrate creativity.
The company runs a wide range of projects, a few of which have been funded by Forever Manchester. In 2014, we funded their 'Testing the Water' project, where direct beneficiaries included adults with learning difficulties and young people with Profound and Multiple Learning Difficulties (PMLD).
DIY wanted to create a new performance which was accessible to young people with PMLD, as they are some of the most marginalised and isolated people in our society.
Adults with learning difficulties face many social barriers and prejudices. They are generally not viewed as making a valuable contribution to society. DIY members are experiencing huge upheaval within the current climate – changes within Social Care mean many of their support structures have disappeared. DIY is now the only social or structured activity they are participating in outside the home. Members and their families are getting older, many are carers for older parents and two members have lost parents recently. Members are dealing with a complex mixture of social, bereavement and mental health issues.
Children with PMLD are often socially isolated and rely on parents and carers for social interaction and support. Barriers include transport, physical access, personal care and attitudes. They may have physical or sensory impairments or severe medical conditions and most do not use formal communication like words and symbols, which makes communication difficult.
Drama offers a powerful vehicle for combating social isolation and enabling people with learning difficulties to lead healthier, more meaningful lives.
Angela Chadwick is one of the founding members of DIY Theatre Company.
"When I started I wouldn't speak to anyone. I was really shy and now I've got a confidence I didn't have before"
Angela has helped to devise and acted in all of DIY's performances. She volunteers with the company and works as a member of DIY's Friday Group, where she co-runs drama workshops and passes on her skills to young people with learning difficulties.
"I feel I have learnt to take the time to learn. I have learnt to have the confidence to go first and lead"
Most recently, Angela has been developing her filming skills and has taken a lead role in documenting some of DIY's Arts Award projects with young people:
"I've learnt to use the camera more. To keep a record. It's important for the evidence. I like helping the students with their portfolios – it gets them thinking"
If you'd like to help Forever Manchester to fund more groups like this DONATE TODAY to make a real difference in your area.