"The poet who defined a city, with a poem that inspired the world"
We are delighted to announce that Tony Walsh is hosting a very special evening of poetry at Manchester's Frog and Bucket on Thursday 27th July (7.30pm-11pm). Tickets are priced at £10 with all proceeds going to Forever Manchester to help fund and support community activity right across Greater Manchester.
The event has been kindly sponsored by OPUS 4, an award-winning provider of design and build workspace solutions.
– THIS EVENT HAS NOW SOLD OUT –
Tony Walsh gained international attention after reciting his 'This Is the Place' Poem in Albert Square on 23rd May, the day after the Manchester terror attack.
"Tony Walsh stunned millions of people…"
Huffington Post
"The moment that went viral… the world is talking about it…"
CBC Canada
"…roars of approval and wild applause… stirring…stunning…"
TIME magazine
"…bound to give you goosebumps."
The Sydney Morning Herald
"… a national hero…"
The Guardian
In a recent article in the Guardian, reporter Emine Saner describes the moment Tony Walsh perfectly captured the mood that evening:
"He came on, adjusted the microphone to his height and, for just over five minutes, his performance of his poem This Is the Place took the crowd from intense silence to laughter to an eruption of cheering that almost drowned out his final words: "Choose love."
"It was what the city – and the rest of us – needed if you go by the hundreds of thousands of views the video has received. It wasn't the solemn, commemorative verse we have become used to hearing at sombre public occasions. It was swaggering, raucous, warm, defiant: a love poem to Manchester. Liam Gallagher said it was "the best thing I've ever heard come out of any Mancunian's mouth, ever".
'This is the Place' is just one of the many poems that Tony has written and performed. In fact he's got a published book full of them, titled "Sex & Love & Rock&Roll" a book to unite and inspire – about coming together and changing the world.
Tony's poetry draws from punk and reggae, hip-hop and comedy, and ancient oral tradition and folk, into the spoken-word live literature scene.
People have told him they didn't think poetry was for them, but that his words made them think again.
If you are one of those people, the "This Is the Place – An Evening with Tony Walsh" event is an evening you simply cannot miss. You'll laugh, you may even cry, but one thing is for sure, it'll be an amazing night.
– THIS EVENT HAS NOW SOLD OUT –
Despite writing poetry at school in Tameside in the early 1970s, Tony put his talent on the back burner for next 30 years. But sometime around 2003, he felt drawn back to poetry: "I had two small kids, maturity, the different perspective that having kids gives you. A poem or two comes to you and you find you still enjoy it and still think they're decent." In 2004, he went to an open-mic night in a pub, got up, knees shaking, "and I found people who got what I was on about and where I was coming from."
Tony started getting guests slots, and his work was published in a pamphlet. He got a place on the poetry stage at Glastonbury too. In 2011, he took voluntary redundancy, and the day he filled out his redundancy form he got an email asking him to be the poet-in-residence at Glastonbury and perform his 'Why Glastonbury' tribute.
Since then he has been a full-time poet and, in addition to countless live performances, he also hosts workshops in schools and prisons, as well as taking on commercial work too.
Around the time when Tony decided to go full-time, Nick Massey, Chief Executive at Forever Manchester, saw Tony perform his epic 'Ode to Manchester' poem called 'Raindance' in the Ducie Bridge. The words and performance chimed with Nick, and with Forever Manchester (then known as the Community Foundation for Greater Manchester) embarking on a name change and rebranding exercise, Tony was the perfect fit to help articulate what Forever Manchester does. Tony would soon become Forever Manchester's 'Poet in Residence'.
In June 2012, Forever Manchester briefed Tony to write a poem to encapsulate the spirit of Manchester and describe what Forever Manchester is all about. The result was a spine-tingling poem called 'This Is the Place'. Tony performed the poem at a number of Forever Manchester events and, with the help of local creative agency Studio North, visuals were added to a shortened version of the poem and published on YouTube.
Since writing 'This Is the Place', Tony has written a number of follow-up poems for Forever Manchester which he has performed at numerous Forever Manchester events, including our annual Birthday Party where he has received standing ovations on every occasion.
Following Tony's performance at the vigil in Albert Square in May, a book of the poem is being produced, to be released on 22nd September 2017, which sees a collaboration between Tony Walsh and the creative community in Manchester, bringing Tony's poem 'This Is the Place' to life through illustration, photography and design.
Click here to pre-order the book
Words from the 'This Is the Place' poem have also been used in a piece of artwork called 'Bee Love', created by artist Amy Coney, which will be auctioned off on 1st August and now contains autographs from a whole host of local celebrities from the world of music, sport and TV.
This keeps getting better! @Johnny_Marr thank you so much for supporting! @Parklifefest here we come! #Manchester #WeStandTogether #OneLove pic.twitter.com/pJv6X6dQ0r

— Amy Coney (@AmyConey) June 10, 2017

Manchester Arndale now displays the poem on their wall, as a permanent reminder to the tragic events on 22nd May 2017.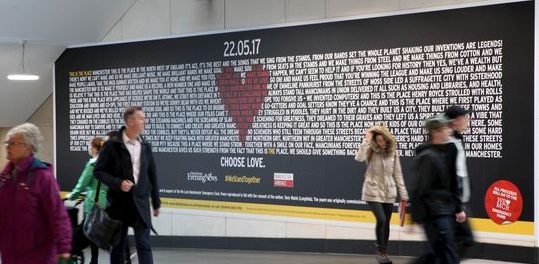 Since the attack, Tony says: "One of the things that marks out the Manchester response is humour and creativity. There is a world-class creative community here in a small place, and everybody is bringing what they do – how they've decorated the streets, people have made T-shirts, books. Little flashes of humour in some of the signs. Coming out of this, we're determined to celebrate our diversity, not retreating. The response has been beautiful to see."
'This Is the Place' – An Evening with Tony Walsh
Thursday 27th July
Doors 7.30pm (ends at 11pm)
Frog and Bucket
102 Oldham Street
Manchester M4 1LJ
Tickets: £10 each. (Over 16's only)
Running order:
Doors: 7.30pm
Start Time: 8pm
Interval approx 8.50pm – 9.10pm
Finish: 10pm
Venue closes at 11pm.
– THIS EVENT HAS NOW SOLD OUT –
"Always Remember, Never Forget… Forever Manchester"