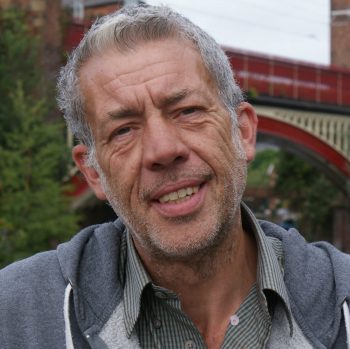 Community Builder
Graeme is our Community Builder in the Moston and Harpurhey areas. Graeme has been with us since 2015.
What do you love about Manchester?
Loads of things, as an honoury Manc, having moved from the south 26 years ago (!) I still get a buzz every time I come into the city centre.  I love the people, still hold with the fact that Mancs are friendlier than any Londoner!  I love the Gay village, still the biggest and most vibrant gay scene in the UK if not Europe (my opinion) I love the fact you can travel for 30 minutes and be in the most amazing countryside and I love the Arts scene, you can have an idea and make it happen here!
What is your favourite building in Manchester?
I don't know its name but its on Oxford Road, I think there's a certain fast food burger outlet on the ground floor but it has the most amazing line of chimneys and elaborate brick work – worth looking up to the sky next time you're round that way.  I also like Levenshulme Library, looking forward to seeing what becomes of it now the library has moved down the road.
Where in Manchester do you live?
I live in Levenshulme and have done for the 18 years of the 26 I've been here.  Its changing fast and you can still buy a house without a lottery win.
Favourite Manc memory:
Too many to mention, too many that may get me into trouble if disclosed and too many taking place at unearthly hours of the night