Moston Juniors Football Club, playing their part in the local community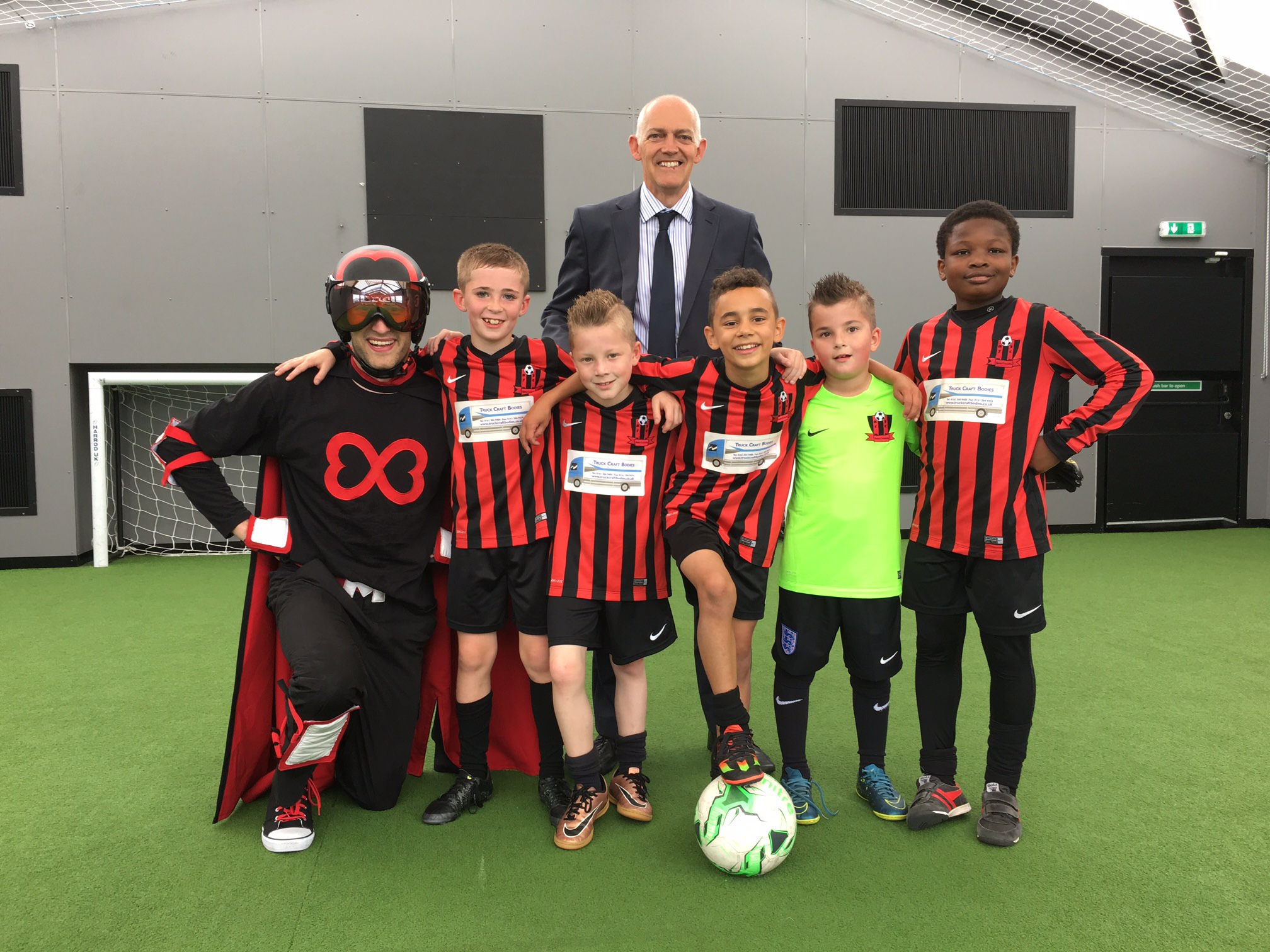 July 8, 2016
At our Business Partners Lunch at Hotel Football on 6th July, we had the pleasure of hearing from Paul Mitchell, Chairman of Moston Juniors FC who spoke about the impact their club has on the local community, bringing together hundreds of young people to give them the opportunity to enjoy football.
Five of the under 10s team also enjoyed a kick-around with Captain Manchester on the football pitch on the top floor of the Hotel.
Moston Juniors FC is a FA Charter Standard Community Club that is based in North Manchester and sources most of its players from Moston, New Moston, Blackley and Harpurhey. Whilst being one of the area's largest and leading junior football clubs, Moston Juniors prides itself in providing opportunities for all of the local community to participate in football. They currently have 25 teams from under sevens to adults – this also include Mostonians, who act as their adult team and AFC Manchester Girls.
They play their matches on the Ronald Johnson Playing Fields in Moston and have use of the adjacent facilities and 3G pitches at Broadhurst Park, home of FC United of Manchester. Since the excellent facility at Broadhurst Park opened in May 2015, Moston Juniors has seen a 10% increase in the numbers of players involved in the teams and 20% increase in the numbers of children training with them.
But it's not just about the football. Moston Juniors work tirelessly in the community to encourage and develop improved standards of health and social responsibility with a wide range of adults and children. They also give parents and local people the opportunity to get involved and learn skills, whether it be learning to coach, helping out at matches and training, organising fundraisers or arranging social events for the young people and their families. But above all, they bring local people together. This is Community.
Like most community groups Moston Juniors need to apply for funding to help deliver their activities. Coaches need to be paid for, as does the hire of facilities, equipment, footballs and player kits. As well as funding, they also need assistance with the coaching and other aspects of running the club.
Forever Manchester was proud to fund Moston Juniors volunteer development as part of the 'Fourteen' programme, which seeks to  increase participation in one or more of the following activities: social action and volunteering; grass roots sport and physical activity; culture activity and the arts; and youth leadership and personal development.
Their plan is to grow to 35 teams, but to do so that they need more volunteers to get involved, specifically on the coaching side. Naturally there are lots of parents involved, but they also are looking for people to help who are not directly connected to the group. They are particular looking for help to work with the youngest teams as that is the area where they have the most number of children. They are also looking for help with writing a coaching programme to help with the sessions.
As well as the football, they also give advice about health, nutrition and wider social issues, so any help to further this is would be gratefully received. If you would like to get involved with Moston Juniors please email Paul Mitchell at Moston Juniors at info@mostonfootball.co.uk
Across Greater Manchester there are hundreds of sports teams just like Moston Juniors, playing a key role in their local community. Forever Manchester is keen to support as many of these as possible but can only do this through the generous donations and fundraising from individuals and businesses across Greater Manchester.
If you'd like to make a single or monthly donation to Forever Manchester click on the following link www.forevermanchester.com . If you want to fundraise and buy tickets for some of our events check out our events page.
Alternatively go to www.forevermanchester.com/fundraise to see some of upcoming local or national events you can take part in and fundraise for us.