Green Fingers Gain Golden Gong in Oldham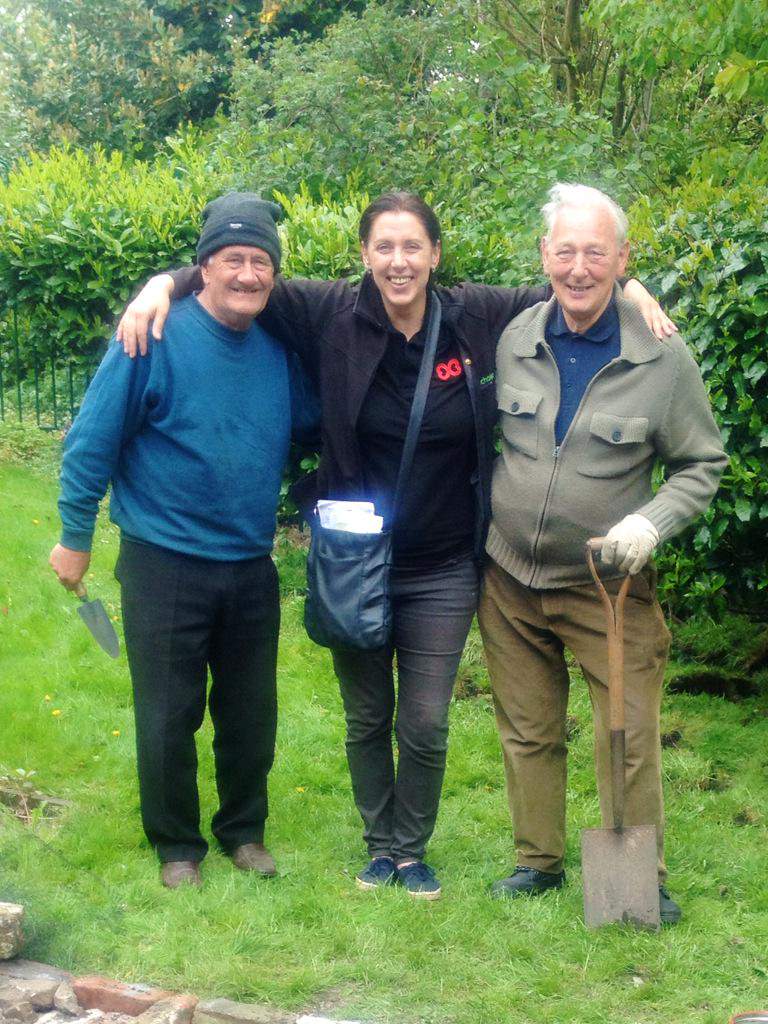 December 1, 2015
Cash4Graft Awardees in Oldham have come up trumps after winning the First Choice Homes' Best Garden Award.
The Sedgemoor Secret Garden group was set up through our Community Building work in the BGreen area, when our Community Builder Lisa Brown saw two neighbours, Geoff and Brian (pictured with Lisa) feeding birds in the communal garden.
Lisa noticed the different types of birds that appeared to be in the communal space and got talking to the pair, who were keen birdwatchers. Lisa explained to them about Cash4Graft and how by working together and encouraging their other neighbours to get involved, they could apply for a Cash4Graft to turn this communal land into something really special.
They went ahead with the application and the Sedgemoor Secret Flower and Bird Garden became a reality.
Over the next couple of months, the neighbours really got stuck in. Raised planters were built for the neighbours that couldn't bend down. A special wild flower section was planted especially for the bees, a seating area was made (and of course the birds were looked after) – even the squirrels were taken care of with a special platform!
A local agriculturalist visited the gardens and said he was surprised to see so many varying pairs of birds in one small area, especially the Jay Birds.
Alex Myers the First Choice Homes (FCHO) Neighbourhood Officer entered the garden into the FCHO Garden Competition after seeing how much had been achieved by the neighbours coming together.
Independent judges visited the garden in the late summer, then the group were advised that they had reached the final.
The event included a 3-course-meal and entertainment and was held at Smokies Hotel and hosted by BBC Gardeners' World's Joe Swift.
The Sedgemoor Secret Flower and Bird Garden won 1st place for Best Communal Garden. The son of a resident involved in the project also won Best Young Gardener at the ceremony. The photos of the fantastic space can be seen below:
The FCHO Garden Competition is held every year. As a result of the work Lisa has been doing in the community to connect residents, members of the Sedgemoor Secret Garden have now been attending the Barker Street Tuesday Club; a local social club set up by a local residents (also supported with a Cash 4 Graft). They have also been involved in Forever Manchester's Rag Pudding Mission Possible event and have been introduced to and made friends with others in their community.
Each member has now made friends and they are now looking to attend a regular evening social club, set up by members of the community where residents come together, share a meal and play some board games.
Geoff, who helped to set up the garden said he was "chuffed to bits" after winning the prestigious award in Oldham, while Alex Myers from First Choice Homes said: "It's great that a garden from this estate has won, and it's been lovely to watch the neighbours come together to achieve this."
A £250 Cash4Graft Award has boosted confidence and helped these residents to connect with similar passions and put their multitude of skills together to create something award winning. The Cash4Graft Awards aim to help make ideas into a reality, which is exactly what we've seen here. After an initial conversation with Geoff and Brian, Lisa was able to connect them with likeminded people, and a small award has now benefitted everyone living on the Barker Street Estate.