Gorgeous Gorse Hill Brightens Up Trafford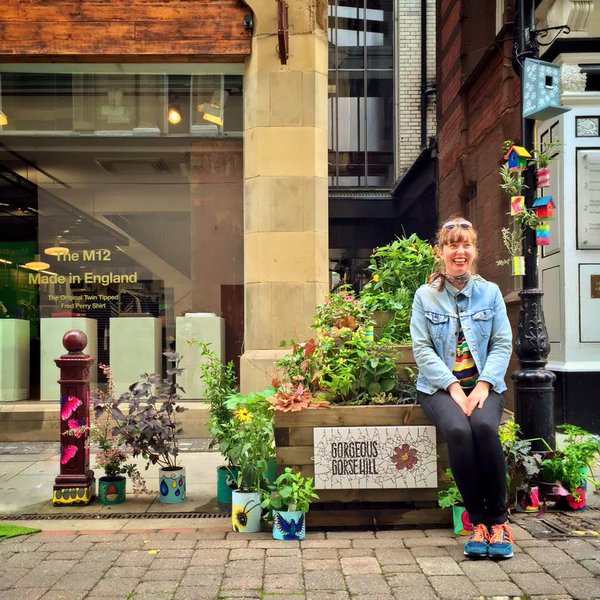 March 14, 2016
With the spring sun finally shining across Greater Manchester, what better way to celebrate than to focus on a great group, which is brightening up Gorse Hill and making it look even prettier in the sunshine?
The Gorgeous Gorse Hill project is a group of local residents, who are working together to try and improve the local area for all – quite simply to make it gorgeous!
Gorse Hill is a suburb of Trafford. Within its boundaries sits Manchester United's football ground and Lancashire County's Cricket Ground. The area sits on the A56 and has approximately 8000 residents.
A number of local residents decided that they wanted to do something to try and improve the local area; a variety of ideas were suggested all of which were great, so they grouped together under the banner of "Gorgeous Gorse Hill", and became a constituted group.
Gorgeous Gorse Hill is based on improving the appearance of the local area through art and gardening but is broad enough to keep developing its remit. By engaging with residents of all ages to get involved in the initiative the group decorated drab grey rollers, BT exchange boxes, safety railings, and other street furniture.
They also planted flowers, vegetables, herbs and fruit on waste ground, grass verges and unloved areas and developed a community orchard.
The group has made a huge improvement to the Gorse Hill area, brightening up streets and areas that were usually grey and colourless with hanging baskets outside of local shops and other decoration across Gorse Hill.
The group started with a Cash4Graft award in 2013 and has come on leaps and bounds ever since.
In July 2014 the group were winners of the Neighbourhood Improvement Award at the Manchester Evening News Environment Awards 2014 for their innovative and inspiring work in Gorse Hill, which got them recognised across Greater Manchester.
The group was also nominated for our 'Inspirational Community Group Award' at our Birthday Bash in February this year.
Ruth Hannan, Co-Creator of Gorgeous Gorse Hill said: "Gorgeous Gorse Hill is a new group and although we have accessed a range of funding the money we received through Cash4Graft has meant that we could make a quick and significant impact in our area. A huge range of plants could be purchased to tidy and plant tree pits in Gorse Hill – our project is now more well-known and has had a quick and local impact for the community."
Take a look at the great work done by the group below:
Our metal bollards started their transformation this year. It's been a colourful 2015. Happy new year! pic.twitter.com/Ckr3eCr2GU

— Gorgeous Gorse Hill (@gorse_hill) December 31, 2015
Planter installed at toilet block & a few plants added. This time next year it'll be overflowing with lavender. pic.twitter.com/3ajVKAPrT3

— Gorgeous Gorse Hill (@gorse_hill) October 1, 2015
@good we've done this too! The kids love them. pic.twitter.com/3hL69YSS1n

— Gorgeous Gorse Hill (@gorse_hill) August 4, 2015
If you want to get involved or keep up to date with what Gorgeous Gorse Hill are up to follow them on Twitter.