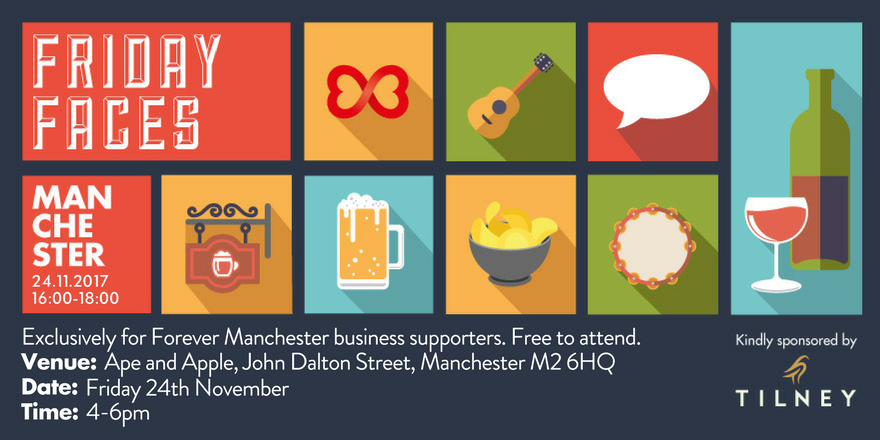 Friday Faces is a networking event exclusively for our growing number of business supporters.
As we truly value the support of these businesses we wanted to hold an event to give us the opportunity to say 'thank you' as well as facilitating introductions with other businesses that support us. We appreciate that the Busy Bees from businesses can't always commit to attending every month, so we've listened to feedback and felt that a quarterly meet would be more beneficial to us and for busy business folk.
The next Friday Faces is on Friday 24th November (4pm-6pm) at the Ape and Apple pub on John Dalton Street in Manchester, kindly sponsored by Tilney.
Friday Faces provides the opportunity for Forever Manchester business supporters and ambassadors to meet each other face-to-face, and get to know each other better in an informal environment. Live music at the event will be provided by local singer/songwriter, Morgan Harper-Jones. We will also be interviewing and listening to the specially made playlist of Sam Mikkelsen, Client Solutions Director for Oscar Technology.
If you are business that supports Forever Manchester, you should have already received an email invite for this event. If you haven't, or if you need a reminder, please email us.
If you are not a current business supporter of Forever Manchester and would like to find out more about becoming more involved with our charity, please drop Jean Mills, our Head of Business Development, an email at jean@forevermanchester.com, or ring us on 0161 214 0940.