Forever Manchester 7's Football Tournament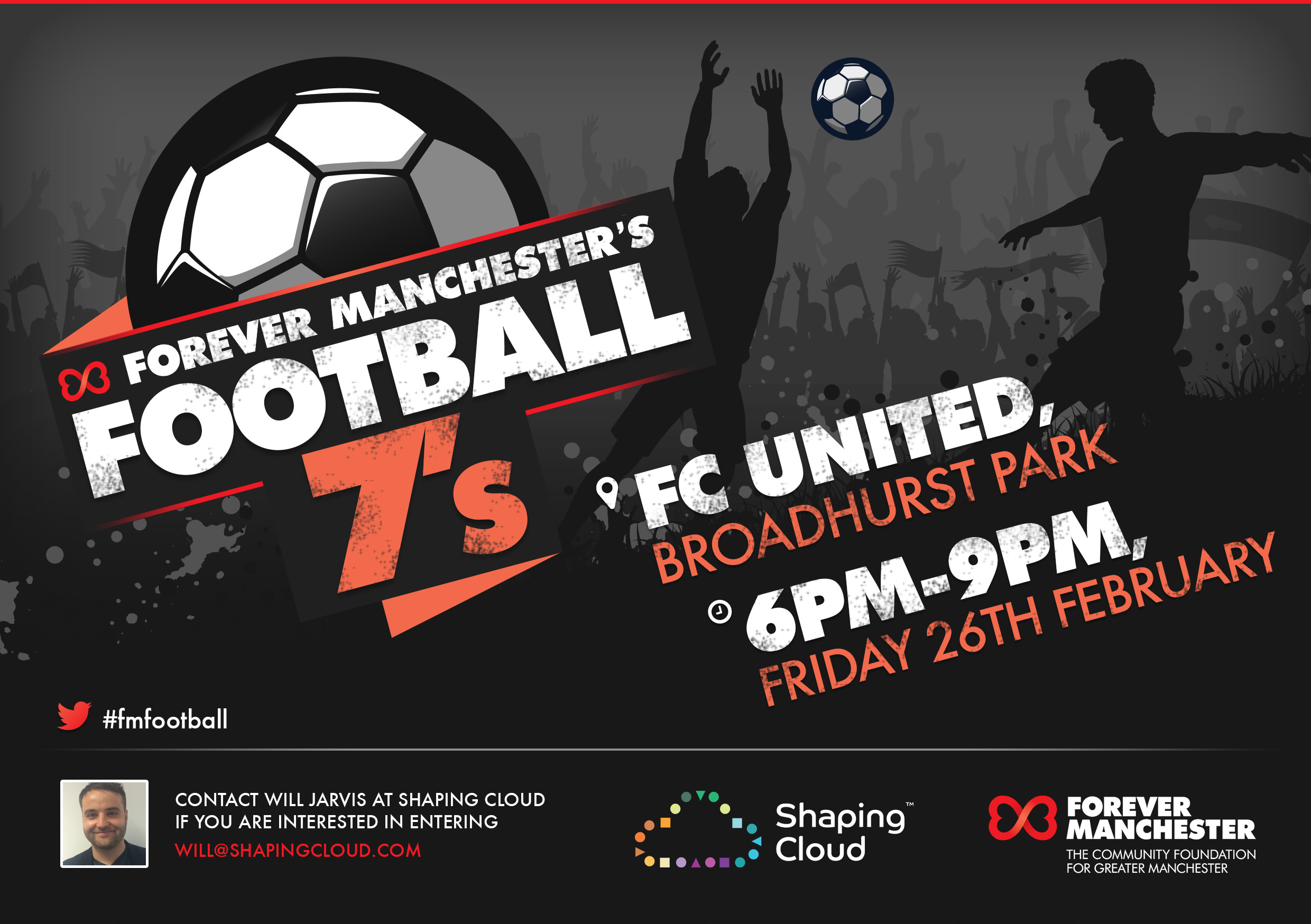 January 12, 2016
The Forever Manchester 7's Charity Football Tournament will take place on Friday 26th February on the 3G Community Pitch at FC United of Manchester's brand new ground in Moston, North Manchester.
The 7-a-side charity football tournament will see 15 teams competing against each other in the format of 3 leagues of 5 teams, followed by semi-finals and final. The tournament is open for male, female and mixed teams (minimum age of 16). Each team must have a squad of a minimum of 7 players. Companies can enter more than one team.
We are inviting local companies to enter a team(s) and take part in an enjoyable yet competitive tournament whilst raising money for local community projects. It provides businesses with the opportunity for staff to come together as a team as well as meeting with and networking with other local businesses.
Entry fee: £150 per team
We are hoping to raise over £2,250 with all money raised going to supporting community projects across Greater Manchester.
Friday 26th February 2016
6pm-9pm (followed by post-match social)
FC United of Manchester – 3G Pitch
Broadhurst Park,
310 Lightbowne Road, Moston,
Manchester, M40 0FJ
About the Tournament
The full-sized floodlit 3G pitch will be divided into three pitches playing across the width of the pitch. Each match will be refereed by an independent qualified referee.
Each match will last 10 minutes and every team will be guaranteed to play a minimum of 4 matches. Matches will begin at 6pm, so players are encouraged to get to the ground in good time (from 5pm).
There is free car parking available at Broadhurst Park together with access to the changing/shower facilities.
Rules of the match together with advice on suitable footwear, will be communicated prior to the tournament. We recommend that players in a team all wear the same coloured shirts. Coloured bibs will be provided if there is a clash of colours.
Following the completion of the tournament we will have exclusive access to the Function Room in the main part of the stadium for a post-match social and trophy presentations.
Forever Manchester Ambassador Will Jarvis from Shaping Cloud is helping us to organise the tournament so if you have any further questions please contact Will at will@shapingcloud.com
Sponsoring the Forever Manchester Football 7's
To help us cover the cost of hosting the tournament we are looking for businesses to help sponsor the event. It's a great way for you to support Forever Manchester whilst gaining fantastic brand awareness and exposure for your company. It's also a great way of connecting with target audiences while demonstrating good corporate citizenship.
If you are interested in sponsorsing the tournament please get in touch with our Marketing Team at  marketing@forevermanchester.com
Registering
If you are interesting in entering a team or have further questions, please email Will Jarvis at will@shapingcloud.com
You can sign your team up using the Eventbrite ticketing form below or alternatively if you wish to be invoiced please email cheryl@forevermanchester.com
About Broadhurst Park
Broadhurst Park is the home of FC United of Manchester and Moston Juniors F.C.
It's the UK's newest football ground and the first new ground to be built and funded by a supporter-owned football club. It is is also set to be one of the greenest. FC United is looking to create the first pollinator-friendly football stadium in the UK after supporters won a £4,000 Grow Wild community project award to develop a landscaping project at the ground.
The £6.3m facility was opened in May 2015. The main stadium has a capacity of 4,400 and includes a clubhouse with a bar and catering facilities, club offices, changing rooms, a medical suite, and a classroom.
Adjacent to the main part of the ground is a full sized 3G pitch and two grass pitches. The 3G pitch is used for home fixtures by FC United's Women's team, youth and academy teams as well as for training for all the teams. The grass pitches are used by Moston Juniors.
As a community facility, Broadhurst Park is used every day by local people and will host a range of sporting and recreational activities. A well-appointed function room and meeting spaces are also available for the local community, businesses and other organisations to hire.
Funding for the £6.3m facility came from a variety of sources. FC United fans raised £2 million from a pioneering Community Share Scheme and close to a further £1 million from other fundraising activities. Grant funding was also provided from Sport England  the Football Foundation, Manchester City Council, Social Investment Business, Manchester College and Viridor.