Forever Manchester Women Tickets on Sale NOW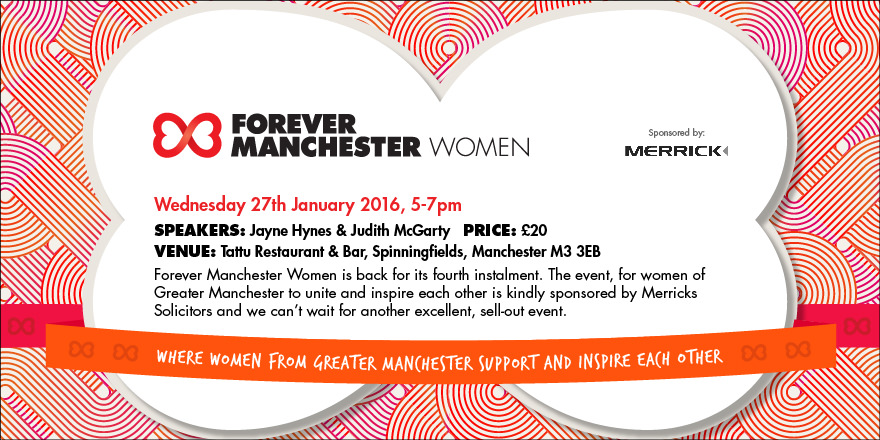 November 16, 2015
We are delighted to announce the fourth Forever Manchester Women will be on Wednesday 27th January at Tattu Restaurant and Bar.
"Networking with a purpose"
Wednesday 27th January
5-7pm
Tattu Restaurant and Bar, Spinningfields
January's event is kindly sponsored by Merrick, a city centre law firm.
Forever Manchester Women is an event for women across Greater Manchester to come together and feel inspired.  So far Forever Manchester Women has raised over £4000 which supports womens' projects across Greater Manchester.
Once again we have two guest speakers.
Jayne Hynes of Kiddyum – Four years ago, Jayne was working as a Chartered Surveyor.  Juggling her career as a mother to two young firls, Jayne spent her evenings cooking, pureeing and freezing meals for the week  ahead.  Jayne is a passionate foodie and wanted to ensure she gave her children the best quality food while she was at work.  This is when it struck Jayne that there was a gap in the market for healthy frozen meals for babies and children.  After carrying out extensive market research, Jayne left her career to concentrate on Kidyum full time.  After winning a national contract through "Start-Up Britain" Jayne launched her range of 5 meals which are now stocked in over 320 Sainsbury stores.  Hear Jayne's story from cooking in her own kitchen to having her products stocked in stores nationwide.
Our second  speaker is Judith McGarty.  Judith and her colleague Tina delivered lifelong learning in the community.  Having lost their jobs they realised that the need for lifelong learning at a real grassroots level was still important and needed and so established InSpirED Stockport which provides IT, Maths and English classes in the community – helping people to develop their skills and confidence and has led to employment and training for attendees.  Hear about the successes and stories of people Judith has worked with over the last year.
We had over 80 guests at our event in October and so we hope you'll join us at Tattu on 27th January for an inspiring and enjoyable evening.
Tickets are priced at £20* and are available to purchase below:
*please note: there is a small Eventbrite fee