Safety4Sisters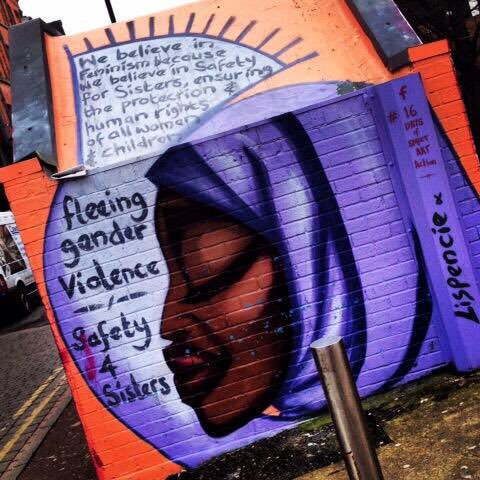 February 22, 2017
As part of the lead up to the next Forever Manchester Women networking event on Wednesday 19th April, we took a look at an amazing grassroots Manchester-based women's organisation that reflect exactly the type of group the event aims to help support.
Safety4Sisters (S4S) support vulnerable migrant women who cannot access safe accommodation or welfare support and who are experiencing gender-based violence. They were set up initially as a campaigning organisation in 2009 when members saw that this group of women experiencing domestic/sexual violence were routinely being denied crucial safe accommodation and welfare assistance when seeking to leave the violent situation.
S4S works with many women including those on visas who have no recourse to public funds, failed asylum seekers who have been made destitute, non-identified trafficked women and women with no immigration status. Because of their often fragile immigration status, women often are positioned under the radar with minimal exposure to authority and therefore state support in particular when leaving/experiencing gender-based violence. S4S works to break down the social exclusion that this group face to build up social integration though encouraging women's engagement to access their rights, to safety and support, and recourse to legal justice including routes to legalising their immigration status.
Initially set up as a volunteer-run campaigning organisation, S4S organised practitioner meetings and conferences, and developed practical resources to create better outcomes and service responses for migrant women. Currently S4S delivers both individual and group support for this community of vulnerable women on a weekly basis and aims to deliver a supportive and caring environment within which women can meet and talk about their individual cases in a group setting whilst also receiving casework support. Few agencies like theirs exist outside of London.
S4S were recently awarded funding from the Auto Trader Community Fund to help towards volunteer expenses for the entire year.
This helps increase the number of women who can access their group, especially as the women S4S work with are migrant women who are living in poverty. Once at the group, women have access to support workers and receive a breakfast as well as a hot, home-cooked and delicious lunchtime meal. Women also have access to phone, internet and administrative resources as well as essential sanitary towels, toiletries and supplies for their children.
One of the groups volunteers, who helps cook these meals, said: "From the beginning, I was happy, emotional and inspired by the women. Thanks to the women I get strength, love and joy every time I cook. Tuesday Women's Group is a very special day for me. I know that many of the women have little access to good, home-cooked food and they miss this greatly. I know that the women also have little money and will often spend it on their children and go hungry themselves – so if they can get something delicious and comforting on Tuesdays then I am happy to make this. Eating together is important and I try to recreate a family meal time so all the women can sit, enjoy and relax together."
Safety4Sisters perfectly epitomise the purpose of our quarterly networking event, Forever Manchester Women.
Forever Manchester Women is an event for women across Greater Manchester to come together and feel inspired. Kindly sponsored by Slater and Gordon, the next event takes place on Wednesday 19th April at their offices in Manchester. Forever Manchester Women is networking with a purpose because it raises money for female-led community projects across Greater Manchester, groups just like S4S. So far it has raised over £13,000 to support inspirational women across the region.
Find out more about the event here, and about our two incredible speakers here.
Tickets are just £20, which includes a welcome drink and canapes. The event is kindly sponsored by Slater and Gordon.
Tickets can be purchased online by using the ticketing form below or, if you wish to receive an invoice for your ticket(s), please email Cheryl Hill at: cheryl@forevermanchester.com.