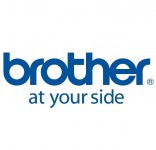 The Brother group delivers products and services to customers all over the world with 17 production sites (including four factories of Brother Industries, Ltd.) and 52 sales sites in 44 countries and regions of the world
In 1968, Brother took over the Jones Sewing Machine factory to make Manchester the new home of Brother UK, and we're here to this day, with a range of class-leading office technologies and business solutions and around 180 members of staff.
For Brother UK, engaging with Forever Manchester and providing our ongoing support is vitally important. We have already started to raise funds in a number of ways including community activities such as charity abseiling and completing the the 3 peaks challenge but also engaging staff through personal donations of their time and skills.
Brother UK's Managing Director, Phil Jones is also our President. This was appointed to Phil to mark our 25th anniversary and he will hold the role for three years, until 2017.
Louise Marshall, Infrastructure and Shared Services Director said: "Brother UK are proud to work with Forever Manchester because it allows us to combine our more traditional charity activities, with a wider range of community based activities, to ensure that our fundraising efforts have the maximum impact on our local neighbourhood, resulting in positive changes that are important to our organisation, business partners and colleagues."