Birthday Party Highlights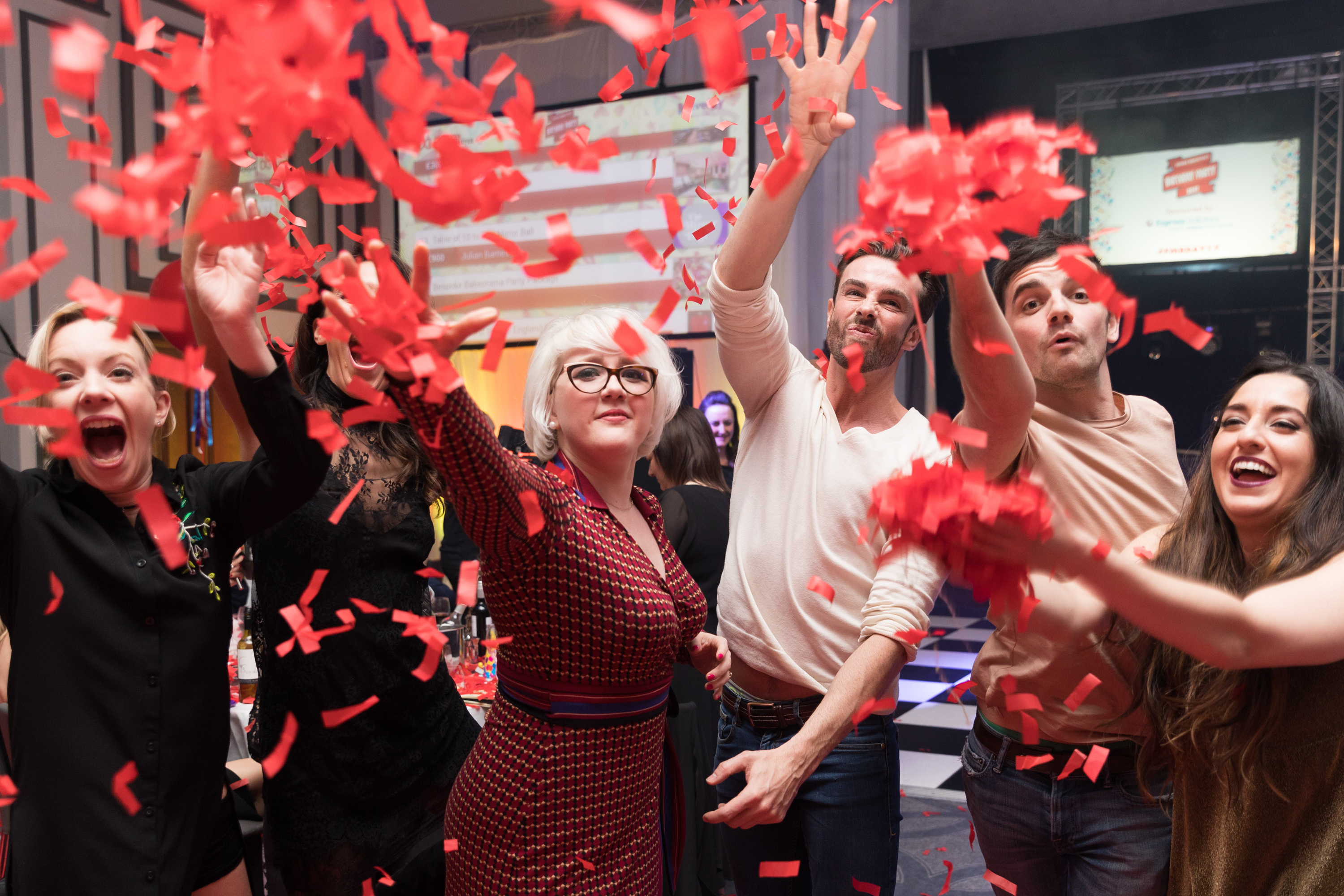 February 13, 2017
Our annual Birthday Party, kindly sponsored by Express Solicitors and held at The Principal Manchester on Friday 10th February, was a huge success!
Nearly 400 passionate Greater Mancunians came together to celebrate another fantastic year of Forever Manchester supporting local people doing extraordinary things together in neighbourhoods across our region.
Our President, Phil Jones MBE, kicked off the night with a great speech and the night continued with excellent talent from community groups and projects, supported by donations from individuals and companies just like those in the room.
The evening kicked off with a fantastic start thanks to Friends of Cornerstone:
Friends of Cornerstone meet every Friday evening and welcomes all, free of charge, to come and develop their skills through drama.#FMBday17 pic.twitter.com/MSRermKQ4p

— Forever Manchester (@4EVERManchester) February 10, 2017
Next to perform were The Sunday Boys:
The Sunday Boys! @InteriorDiamond @4EVERManchester #FMBday17 pic.twitter.com/Xn6pyLMt0L — Claire Leaman (@clairekleaman) February 10, 2017
@TheSundayBoys brilliant stuff ✨✌🏻#sensationalsinging @4EVERManchester #FMBday17 #taintedlove 👏🏼💞

— Trace Claydon (@PEFtrace) February 10, 2017
The final community group performance of the night came from Red Hot Flames:
An amazing performance from @RedHotFlames1 – and what a finale! 💥#FMBday17 pic.twitter.com/UkudhrnvfP — Forever Manchester (@4EVERManchester) February 10, 2017
The night was closed by our Poet in Residence, Tony Walsh, who performed his newest poem, Who We Are, for the first time:
Another masterpiece poem "Who We Are" from @LongfellaPoet @4EVERManchester #FMBday17 @PrincipalManc pic.twitter.com/KDJWHPLlIH

— Carl Sukonik (@thevainphotos) February 10, 2017
Love @LongfellaPoet @4EVERManchester smashing it as always #FMBday17 — Opus 4 (@Opus4FitOut) February 10, 2017
And we were brought into the wee hours by none other than Clint Boon:
Check out @therealboon bringing the tunes to #FMBday17 for @4EVERManchester 💃🏼💃🏼 pic.twitter.com/HJQEg4AYzR

— Louise Marshall (@LouiseMarshall6) February 10, 2017
Thanks to the generosity of individuals on the night as well as sponsors and corporate partners. we raised a massive £46,000 so far which will go to support community projects across the region.
We would also like to congratulate the following winners who won our awards on the night:
Corporate Supporter of the Year – Convergys
This is the Place Award – The Holiday Club
Inspirational Community Group Award – Moving On With Cafe Central
Captain Manchester Award – Russell Boardman
Lifetime Service Award – Terry Snowden MBE
We'd like to thank our sponsors:
Event sponsor – Express Solicitors
This is the Place Award sponsor – Kellogg's
Captain Manchester Award sponsor – Auto Trader UK
Inspirational Community Group Award sponsor – CDL
Ticket sponsor – Cresta Cars
Corporate Supporter of the Year Award sponsor – Brother UK
Twitter Wall sponsor – Weber Shandwick
Event programme sponsor – Kyocera UK
Photobooth sponsor – Beever and Struthers
Video of the Night sponsor – Tunafish Media
Compere sponsor – Seventy7
Thanks to the kind donations of these companies, we were able to put on a great night for our supporters to celebrate Forever Manchester as well as invite community groups to celebrate with us.
Thanks also goes to our compere, Terry Christian who hosted the night perfectly, and Clint Boon.
A big Forever Manchester thank you also to our auction and raffle prize donors, including: The Principal Manchester, Gary Taylor, The Drunken Butcher, Verdure Floral, Cottonopolis, The Refuge, Manchester Arena, Bakeorama and barn//it.
The night wouldn't have happened if it wasn't for the great team who supported Forever Manchester throughout the planning and the evening itself, and provided their excellent services to us. These people include: Andy Heggs and the Drumbeat team, Emma James, Kat Farys of Giraffe Event Solutions, Lisa Clayton and Darren Howard of Vision Events Management, Jane Crowther of G.F Smith, Sarah Raynard, Suzie Lewis, Lisa Egerton, Aisha Riaz, Tom Phillips, Sarah Cowan and team, and the team at The Principal Manchester.
Click the images below to be taken through to the photo albums from the night