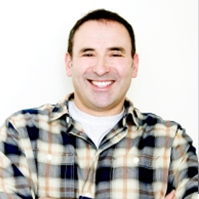 "I've spent most of my life in North Manchester."
Danny is director of IT business, SBS Networks Limited.
"I was born (under a wandering star) in Radcliffe some years ago. I've spent most of my life in North Manchester with a short spell in the West Midlands whilst I was studying photography at university. I have been running my own technology business for 10 years and work with a team of 5. I'm a widower and I live in Prestwich with my two teenage sons and two chocolate Labradors."
Danny's commitment to Forever Manchester
Danny has supported Forever Manchester in many ways over the years including donating beer to our FACTVM exhibition and completing the Backwards Run in 2012 (raising £110). He is a regular networker at Business Plus Networking and our very own First Friday Club.
We're pleased to announce that as of 2013, SBS Networks is a new member of our Manchester Million business club and will be providing all of Forever Manchester's IT support.