World Alzheimer's Awareness Month – Singing with Dementia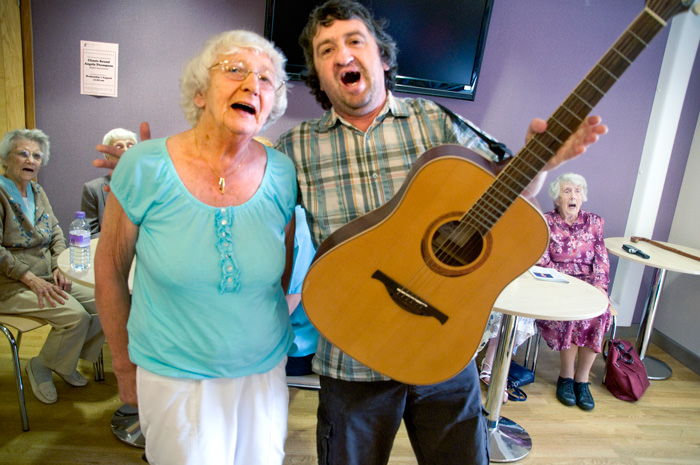 November 4, 2015
November is World Alzheimer's Awareness Month.
Alzheimer's can often be an isolating illness for both the person suffering with it and their carer.
Alzheimer's disease is the most common cause of dementia. The word dementia describes a set of symptoms that can include memory loss and difficulties with thinking, problem-solving or language.
Singing with Dementia is a group based in Salford, which helps people and carers struggling with the symptoms of Dementia, including those suffering with Alzheimer's.
June Smith and Diane Greaves run Singing with Dementia, a music group that helps memory-loss sufferers to recall their happy past through the power of music. The group provides dementia sufferers and their carers with a safe, welcoming place to relax, sing, enjoy music and companionship, and get support.
Forever Manchester funding helped to provide entertainers and specialist music therapists.
June says:
"Some members have attended every week since we began 3 years ago. They say that it is the one bright spot in their lives. They know that they can tell us their innermost fears and problems as we have been there and really understand.
"My wish is to link in with local care home owners to bring their residents to Singing with Dementia to reap the benefits and enjoy the music."
So, why did June set up Singing with Dementia?
"I had cared for my husband for 6 years. Being a carer of a loved one suffering from dementia is not easy. You need to know that there is somewhere to go and someone to turn to who will listen, understand and be there for you.
"We set up Singing with Dementia in Salford to help other carers. Suddenly people who suffer from dementia and may never engage in conversation tap a foot, wave a hand and sing the words of a song long since forgotten that triggers a memory. They become alive through the music. Relatives cry with happiness and astonishment when they see the transformation that the music brings.
"I wish there had been a service like Singing with Dementia when my husband was ill.
"Life can be a nightmare for carers. They never complain. That's why we do it. We provide a release valve. We give help, advice and support and we laugh and hope that it all helps. I hope my husband would be proud of the end result."
Forever Manchester recently produced a video from a visit with Singing with Dementia, which can be seen below:

If you'd like to help us to fund more excellent groups like Singing with Dementia, DONATE TODAY to make a real difference to local people doing extraordinary things.